The Chef in Residency Programme
Every season we invite a handful of exciting chefs from around the world to participate in our chef-in-residence programme to experiment and hone their craft. Whilst taking up residence in the beautiful villa, they work alongside the restaurant to evolve the traditional tuscan menu and help to curate the seasons, cooking for guests and artists alike. Alongside this, is their contribution to our expansive programs of experiences including food workshops, dinners, events and unique wild dining offerings. This programme ensures an evolving menu at Villa Lena, and enables visiting international chefs to curate part of the seasonal menu, and to share their vision and recipes for organic, sustainable cuisine. The chefs in residence are an important part of the Villa Lena community and the Foundation's mission. 
Seasonality is at the core of our ethos: from the first signs of wild asparagus and elderflower in spring, to zucchini flowers and blackberries throughout the summer, to the white truffles and figs abundant in autumn. Each chef brings his or her own take on the local produce and responds to the seasonal ingredients, foraged or grown on the estate.
Julia Khan's – Cavolo Nero Ceasar Salad
Julia Khan Anselmo is an entrepreneur working as an event producer, designer, stylist and chef. Julia's disparate yet intertwined skillsets give her a unique perspective on creating meaningful and memorable experiences around food. Julia is the founder of Feisty Feast, a global event that celebrates and connects women through powerful conversations, beautiful food and stunning locations. When she isn't producing events or cooking something delicious, she is travelling where she gains inspiration for her slow lifestyle brand LAASSO. She was our chef in residence during the 11th October until the 5th of November 2021.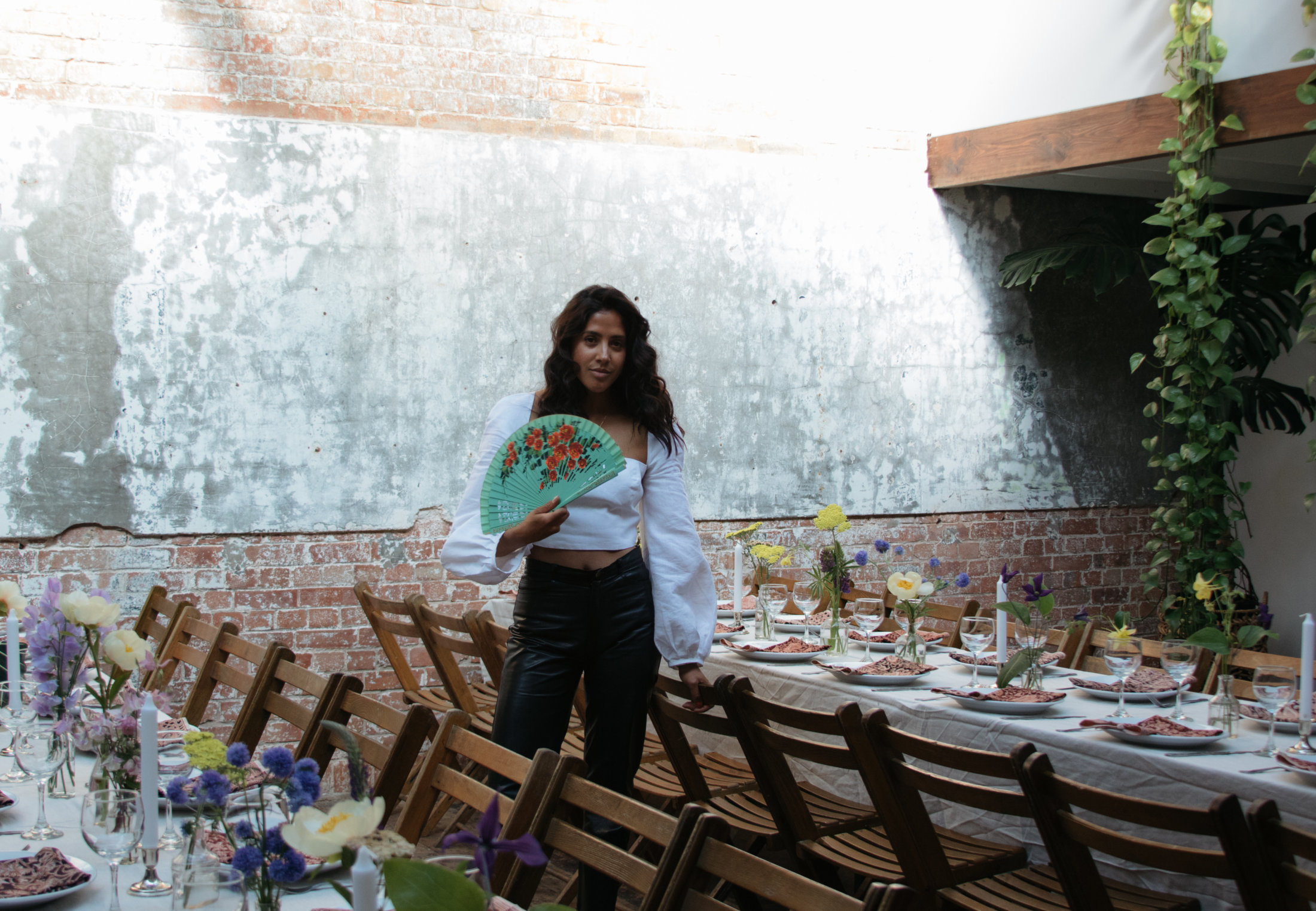 Julia Khan is based in Amsterdam, more info can be found about her here.
This is something I've been making during my time in Tuscany at Villa Lena. The orto is bursting with brassica's and I've been experimenting with incorporating cavolo nero into every dish I make here. This cavolo nero ceasar salad has been a favourite here, at the villa table and I hope it will become one of yours too.
Ingredients:
1.5 cups of olive oil
1 egg yolk
3 anchovies
1 garlic clove
1 teaspoon of dijon mustard
lemon zest of 2 lemons
salt
1.5 pounds of black kale, center stems removed and torn
Sourdough bread croutons
Recipe to make the dressing: Add garlic, anchovies, lemon zest to a pestle and mortar and pound into a paste. You can also use a hand blender, but the pestle and mortar is more magical. Add the egg yolk and a pinch of salt and combine with the paste until well combined. Continuing to stir, add oil drop by drop. The mixture should become smooth and creamy, a sign that you are creating a strong emulsification. Continuing to stir, keep adding the oil, little by little until the dressing has thickened. Add dijon mustard. Taste the dressing and add in lemon juice from lemons to thin the dressing until the consistency of a cream.
Recipe to make the bread crumbs: Tear bread and drizzle with olive oil, salt and pepper. Mix with your hands and bake until browned. Toss kale in a large bowl with a few spoonfuls of dressing and the croutons. I like to use my hands to properly mix the salad.
Martin Planchaud's – Pappardelle al Ragú di Cinghiale
World-traveler chef Martin graduated from Bordeaux culinary school and from there never stopped exploring from Canadian bistronomie to Michelin-star restaurants in Paris. Martin focuses on origins, quality and aesthetics. He creates food situations as a way to connect people and build boundaries between individuals and their environment. Some of Martin's most recent projects include collaborating with art and design residencies. Martin was our chef in residence during the 26th April until the 21st May 2021.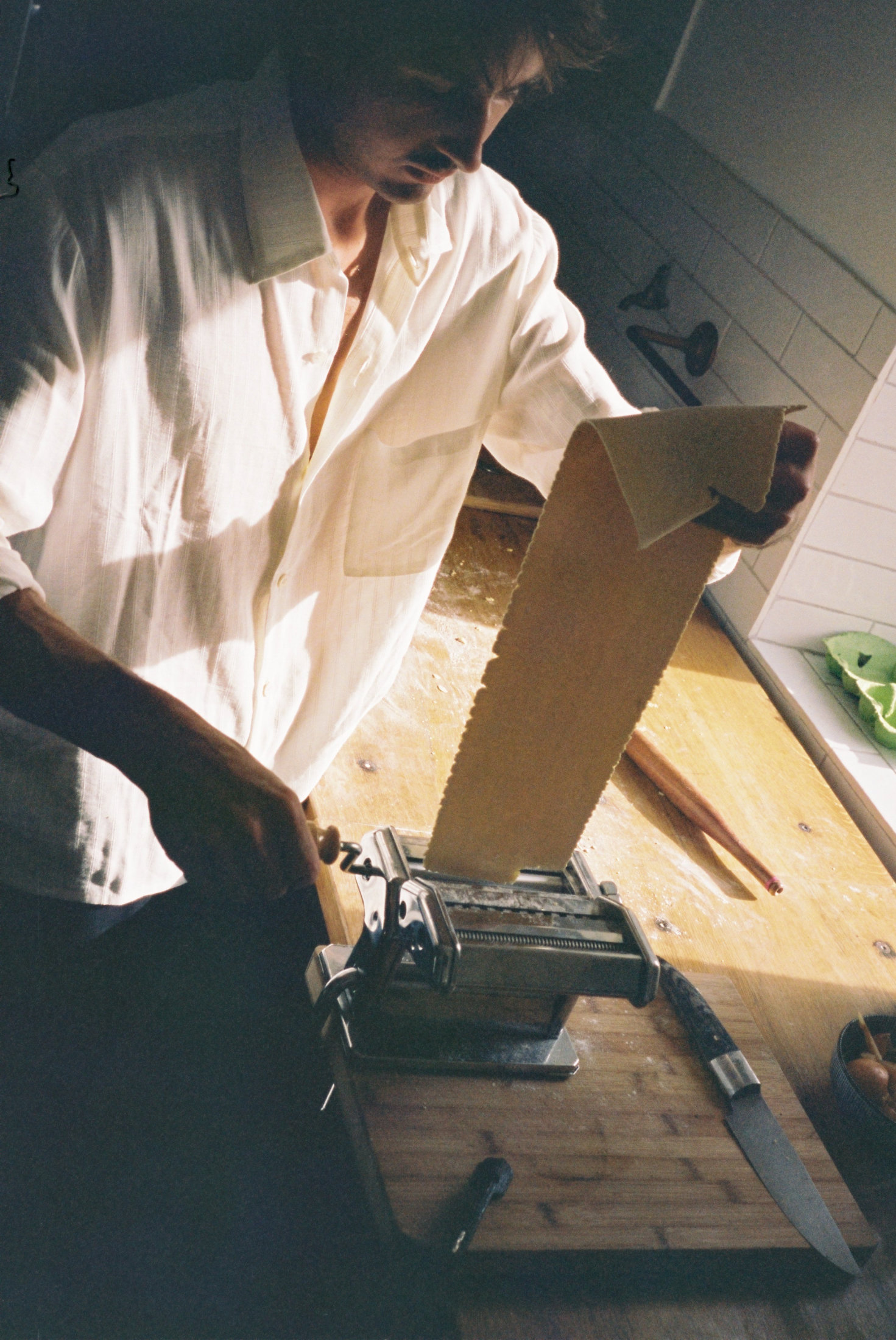 Martin Planchaud is based in France, more info can be found about about him here.
First of all the way I cook it is an adaptation between what I saw and tried in Tuscany, and the way I used to cook Bourguignon but with wildboar, instead of the beef.
Ingredients for the pasta (10 guests):
500g – type 00 flour
14 yolks
1 whole egg
A pinch of salt
A drizzle of olive oil.
Ingredients for the Wildboar Ragu sauce:
1.5kg of wildboar unboned shoulder
red wine (1.5l)
red wine vinegar
sage
rosemary, garlic and black pepper
2 onions
3 carrots
2 branches of celery
Recipe for the pasta: Create a fountain by placing the eggs in the center and gently mix them little by little, with a fork so the dough is evenly mixed. Go working the dough and once done, wrap it in transparent film and keep refrigerated at least 30min. Later on, laminate it with the pasta machine. Approximately each portion is 90g/person.
Recipe for the sauce: The day before, chop 1.5kg of the wildboar unboned shoulder in 3cm cubes, put in a pot and marinate overnight them in red wine (1.5l) and a splash of red wine vinegar till the meat is covered. Add sage, rosemary,  garlic, black pepper berries. Refrigerate. In the morning, strain the meat and keep the wine.
The next day, create a sofrito by dicing 2 onions, 3 carrots, 2 branches of celery. Set up the oven at 150 degree Celsius. In a cast iron pot (le creuset cocotte style), add olive oil and saute on both sides each piece of marinated wildboar. Keep aside. In this same pot, cook down the sofrito.
Add the meat and 3 spoons of flour. Stir well the whole preparation and later add the wine. Consequently bring to boil and add a bit of sage and garlic. Then cover and place the cocotte in the oven for 3 hours. Once ready, let it rest for 2 hours.
To serve it, cook the Pappardelle in boiling hot salted water for 1 min and transfer them into a large pan with the ragu. Finally «saltare » well and serve them with shaved pecorino or parmigiano on top.
Paige Woodie's – Pici Cacio e Pepe
Paige Woodie was born and raised in a small beach town located in New Jersey. She first learned to cook from her grandmother, an Italian-American woman, who spent her days in the kitchen with Paige, teaching and passing down handwritten recipes that she still cooks and cherishes today. Paige attended culinary school at Leith's School of Food and Wine in London and over the years has mixed her career in film with her passion for food. From producing food commercials to creating food forward digital content, Paige has continued to whisk both worlds together. Paige lives between the US, London, and Rome where she has been honing her culinary skills at supper clubs, teaching private cooking classes, and at local restaurants. She was our chef in residence during the 26th April until the 18th June 2021.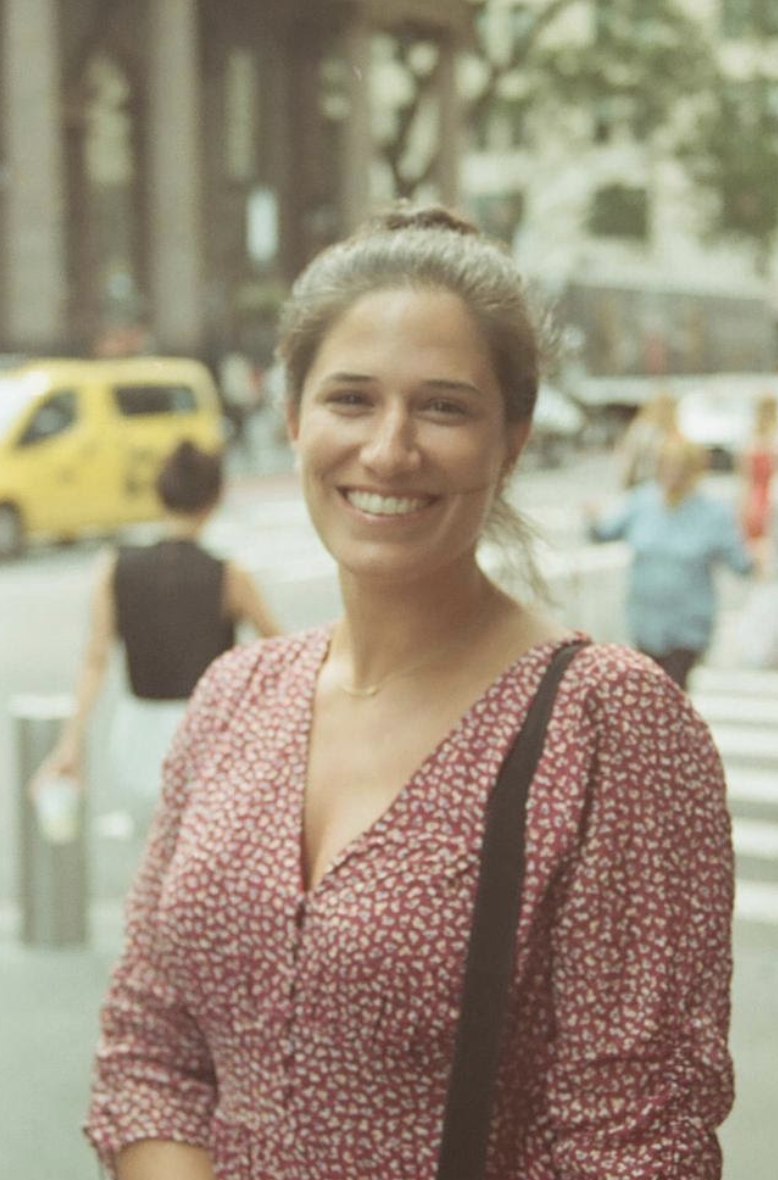 Paige Woodie is based in London, more info can be found about about her here.
Ingredients for the pasta:
200g – type 00 Flour or All Purpose (1 & 1/3 cups)
100g – warm water (1/2 cup)
1 egg yolk (optional)
a dribble of extra virgin olive oil
Semolina flour for dusting
Ingredients for the Cacio e Pepe:
1/4 cup of Pecorino Romano + plus extra to finish
3/4 cup of Parmigiano + plus extra to finish
1 tablespoon of butter/extra virgin olive oil (optional)
Salt to taste
Freshly cracked black pepper (whole peppercorns in a pepper grinder OR whole peppercorns and we can crush)
NOTE: The ratio of parmigiano to pecorino is entirely up to you. Traditionally cacio e pepe is made only with Pecorino, but it's very salty so that's why I, personally, like the blend of the two cheeses. The parmigiano softens the bite to the pecorino and in the end balances the dish.
Recipe for the Pici Cacio e Pepe: Weigh your flour and water. If using egg yolk (personal preference), crack and separate the yolk from the white. Save the whites for your next omelette or meringue.
On either a wooden cutting board or in a bowl, make a walled well out of the flour and pour in your warm water and, if using, egg yolk. Gradually whisk your water, pulling in some flour from the sides of the inner wall of the flour well. Your water and flour will begin to create a paste as you incorporate more flour. Soon you will have a dough mass. Use your hands to form into a dough ball and dump onto your wooden board and begin to knead.
NOTE: The dough shouldn't be too shaggy and dry. Depending on the humidity of the day, you might need more or less water than the recipe calls. Use your best judgement. You shouldn't have a sloppy wet dough and you shouldn't have tons of dry bits of flour.
Knead the dough for about 7 minutes or until you have a smooth surfaced ball of pasta dough. Cover in cling film or underneath your bowl and rest for about 30 minutes. This helps the gluten relax in order for us to shape our pici.
While the dough rests, grate your parmigiano and pecorino cheeses. The ratio is completely up to you. If you enjoy more of a salty cheese, use more pecorino. If you like a milder tasting cheese, up the parmigiano. You'll finish the pasta with an extra sprinkle of pecorino so keep that in mind.
Now that your dough has rested, roll your dough with a rolling pin or press with your hands to a thick flat disk. On your clean cutting board, cut strips of dough and with straight fingers, begin to roll your strip of pasta. As you roll your hands over the dough, your hands will gradually roll to opposite sides of the cutting board as you roll and stretch the dough to create a noodle the size of about a pen. Keep the larger piece of dough that you're working from covered so that it doesn't dry out. Continue rolling until you've finished the dough.
Bring a pot of water to a boil and salt the water. Once the pot comes to a boil, put your pici in the boiling water. The pici should take about 4-6 minutes to boil, depending on how long ago the pici was made. Have a pan ready on the stove top for tossing your pici cacio e pepe. Crack about 15 twists of black pepper into the pan and begin to toast. Add a bit of butter to the pan with the pepper. Ladle about one spoonful of pasta water into your pan of pepper and butter. Let this simmer and emulsify, adding more water as needed. Once your pici is done cooking, use a spider strainer to pull your pici out of the water and toss into the pan of black pepper and butter. If you are using a traditional strainer in the sink, please save a mug full of pasta water. This starchy water is liquid gold and will help you make any sauce! Let the pici marry into the butter, pepper, and pasta water. Turn the heat off and layer the grated cheeses over the pici and stir quickly, tossing the pici to coat. Don't worry if it's not coming together at first, keep whisking and it will create a creamy sauce. Add more pasta water as needed.
(Alternatively, make a cheese sauce first by placing your grated cheeses into a heatproof bowl, take a bit of pasta water and, very slowly, add to your bowl with the cheeses, whisking as you go along. You are looking to create a paste that is the consistency of a béchamel. Thick enough to coat the back of a spoon, but not a thin liquid. Add the cheese sauce to the pan with the pici, black pepper, and pasta water).
Serve immediately, grate extra pecorino on top along with an extra crack of pepper! Mangiamo! (Let's eat!)
To find out more about our Chef in Residence programme, click here.
To learn more about seasonality and local produce at Villa Lena, click here to read about Gigi's Garden.