Tuscany's Villa Lena comes to London on Thursday 28th November for a 2-day pop-up at 180 The Strand featuring a product shop, aperitivos, and talk by previous artist in residence Amelia Abraham.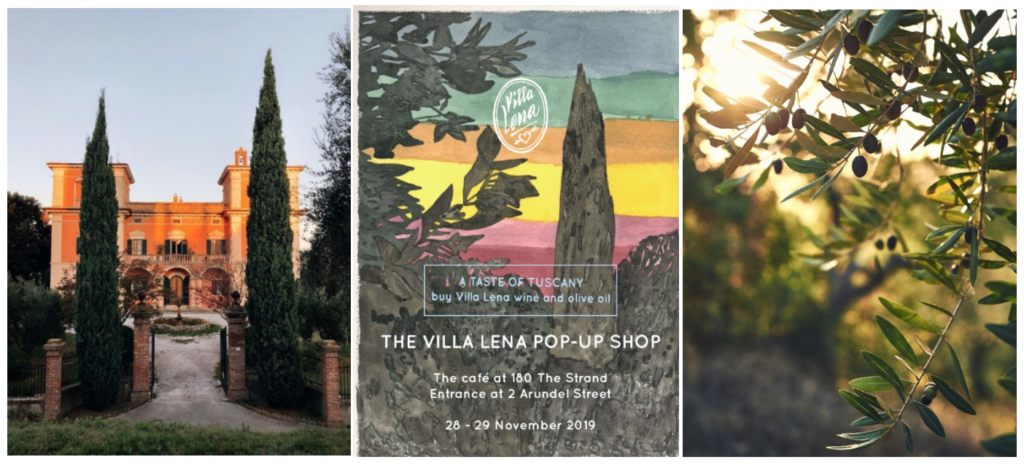 • What: Villa Lena pop-up shop
• When: 28th – 29th November 2019
• Where: 180 The Strand, WC2R 1EA
Villa Lena, the unique agriturismo hotel in wild Tuscany, is set bring a taste of Italy to London this November with a pop-up shop at 180 The Strand from 28th – 29th November. The 2-day pop-up will feature a product shop perfect for unique Christmas gifts, complimentary aperitivo for visitors and a talk by previous Villa Lena artist in residence, Dazed writer and author, Amelia Abraham.
Taking place in the café at 180 The Strand from 4 – 6pm, Villa Lena will invite the public to come and taste test delights including their olive oil, red wine and sparkling rosé. Visitors will also be invited to take part in a traditional Italian aperitivo, alongside canapés created by Villa Lena's head chef including grilled polenta with courgette, tomato bruschetta and crudo ham and pecorino Toscano. In addition, on Friday 29th November at 3pm, previous Villa Lena artist in residence and Dazed Magazine's Features Editor, Amelia Abraham, will give a talk on the importance of art residencies in fostering creativity.
Villa Lena will launch its new range of products at the event, currently available to buy exclusively from the pop-up. The new products have been created and inspired by Villa Lena's expansive 500-hectare estate, including olive oil, two variations of red wine, candles, limited edition prints, olive picks and napkins. In addition to the home-grown products, Villa Lena is also launching an authentically Tuscan sparkling rosé in collaboration with Mazzei wines, a family run business that has been making wine in Tuscany for over 600 years.
In addition, there will be a selection of artisanal products on sale, created by past artists in residence and local Tuscan craftsmen. Villa Lena candles are created by Graziani, Tuscan wax chandlers since 1805; olive picks designed by Danish-Australian artist Emma Montague during her artist residency at Villa Lena in 2016; printed napkins by Berlin-based past resident Nadine Goepfert and a selection of limited-edition prints donated and created by past Villa Lena resident artists.
The Villa Lena pop-up will take place in the café at 180 The Strand, 2 Arundel Street, from 4 – 6pm on 28th and 29th November 2019. Admission to Amelia Abraham's talk at 3pm on Friday 29th November will be on a first come first served basis.