An exciting new restaurant and menu concept for our farm-to-table restaurant at Villa Lena
We are so excited to share our new restaurant offering with you! In the spirit of Villa Lena's ethos of collaboration and creative exchange, we have joined forces with hospitality dream team Michael Sager and Quixotic Projects founders Joshua Fontaine and Carina Soto Velasquez to develop an exciting new concept and menu at the San Michele Restaurant at Villa Lena.
"Villa Lena is about bringing a contemporary and creative flourish to the traditional Tuscan lifestyle, and we are delighted to see this coming together perfectly in our restaurant. Both organically and by design, Villa Lena has always been a hotbed of creativity and collaboration, so working with such an incredible and eclectic team to create a new restaurant is the perfect reflection of this central ethos. As so often is the case, the outcome is even greater than the sum of its parts."
– Lena Evstafieva, owner and founder of Villa Lena
This union was brought about organically, following the new collaborators' stay at Villa Lena in 2020. Drawing from their vast areas of expertise in food, wine and hospitality, and influences spanning cuisines from the Mediterranean and beyond, the new restaurant's menu will offer simplicity and honesty, with house-made pastas, freshly-made cheeses, and locally sourced wines, all led by produce and provenance, making use of the natural larder at one's fingertips amid the rolling hills of rural Tuscany.
Open to both hotel guests and visitors, the interiors of the restaurant are inspired by Villa Lena's unique atmosphere, that brings together traditional Tuscan styles with contemporary design. Incorporating reclaimed tiles and furniture, the restaurant is designed to be full of light – the pinks, blues and greens throughout were carefully chosen to match the beautiful sunsets and olive groves, which can all be seen from the San Michele building and terrace. Guests can get involved in regular activities including cocktail masterclasses, pizza making and cooking lessons with freshly foraged truffles, in addition to one-off workshops seasonal workshop curated by artists and chefs. For those not staying at the hotel, a range of day passes are be available, granting access to the pool and creative workshops.
Head chef Marco Baldeschi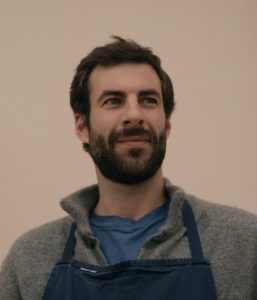 Also joining the restaurant for the 2021 season will be Tuscan born head chef Marco Baldeschi, previously of prestigious Paris restaurants Saturne and Le Mary Celeste. Marco has been working closely with local Tuscan suppliers whilst creating the menu, these include meat supplier Davide Balestri in Lari, who will be supplying Villa Lena with heritage poultry, traditionally cured meats, and locally farmed lamb and beef; and cheese maker L'Avvenire, who will be supplying Villa Lena with the freshest of ricotta and well aged pecorino.
Marco will also be sourcing much from the rich grounds of Villa Lena, which will provide the restaurant with seasonal vegetables, aromatics, olive oil, truffles, wine, and honey.
Breakfast, lunch and dinner
Serving breakfast from 8am, guests are invited to enjoy a traditional Tuscan breakfast, alongside additional items including due uova with fresh salad from the garden of Villa Lena, necci pancakes of chestnut and ricotta and bruschetta, with seasonal vegetables. To accompany, the beverage offering includes speciality coffee from Le Piantagioni Del Caffe, brewed locally in Livorno and, to kickstart your day, the mimosa della casa of orange or grapefruit and the shakerato martino, made with espresso, amaro, and amaretto Adriatico.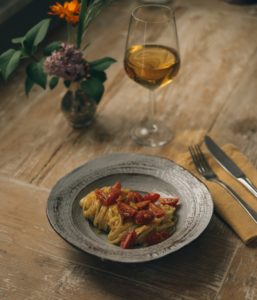 Served from 12-3pm, lunch at Villa Lena is a convivial affair. The perfect intermittence, to be enjoyed in-between one of the workshops, events or talks included in Villa Lena's programme, or simply as a break from lounging by the pool amid the rustic landscape, the menu includes smaller plates such as arancini with saffron, prosciutto and scamorza and verdure dell'orto, a selection of pickled vegetables from the Villa Lena garden. To follow, fresh pastas include rigatoni with cherry tomato passata and basil, linguine, with clams, garlic and bottarga and pici cacio e pepe.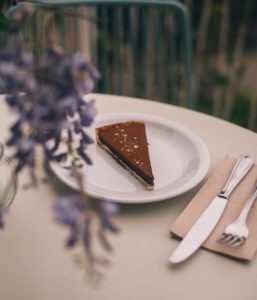 As night draws in, guests and artists gather in the terrace restaurant for a vibrant dining experience that showcases the unique charm and romanticism of Villa Lena, once again portraying the rusticity and simplicity of Italian cooking. Available a la carte, or as a four-course set menu, dinner begins with small dishes including mussels, with chili, cilantro and Thai basil and fried green tomatoes with aioli to be followed by pastas including tagliatelle with white ragout and penne with tomato and burrata. To follow, larger dishes include slow-cooked lamb shoulder with garden herb salad and roast potatoes and pesce di giorno, fish of the day with wilted kale and white beans. To finish chocolate tart with Villa Lena olive oil and Maldon salt lends itself to the dessert list.
Also available for those seeking an exclusive experience, will be bespoke private dining opportunities, for smaller or larger parties, available in the restaurant or under moonlight in Villa Lena's idyllic garden.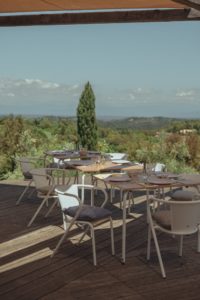 Wine and cocktail list
Utilising their long-standing experience in the wine industry and already established relationships with suppliers, Michael and Josh have created a wine list made of wines mostly sourced from Tuscany and the surrounding regions, with producers specialising in low intervention wine making.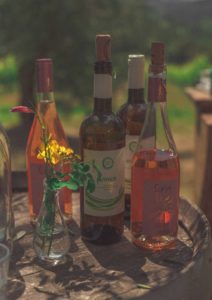 The wine list includes Tuscan organic vineyard Do.t.e, from winemaker Filippo Calabresi, who creates 'down to earth' wines, with an experimental approach that results in wines that portray a unique interpretation of Tuscany's terroir and Ampeleia, a wine estate originating from the 1960's that once champions biodiversity and the local tradition of planning multiple grape varieties in each plot. Perfect for an afternoon by the pool, a concise cocktail list from Carina and the Quixotic team will include the Smoky & Cheerful, made with mezcal, rabarbo, strawberry, lemon and Tabasco and the Frozen Sgroppino, made with lemon sorbet, prosecco and vodka. For those not staying at the hotel, day passes will include the Aperitivo Hour between 18.30-20.30pm, where visitors can bask in the evening sun with a selection of antipasti plates, accompanied by cocktails or wine for a set price.