Amaze your friends with this sweet recipe from former chef-in-residence Aaron Tomczak. This cake is the ultimate dessert for al-fresco dinners with your loved ones.
Villa Lena to me is simplicity, made extraordinary through natural beauty augmented by creativity. To draw a parallel to food for me would be ripe strawberries and Margherita cake, topped with a sabayon made from local wine and garnished with herbs from the garden. Very simple ingredients, made memorable by the airy texture of the sabayon and floral aroma of nasturtium and lavender.
The sabayon itself is simple, made only of three ingredients; egg yolks, sugar, and wine.
Only through proper technique and care does it become distinctive.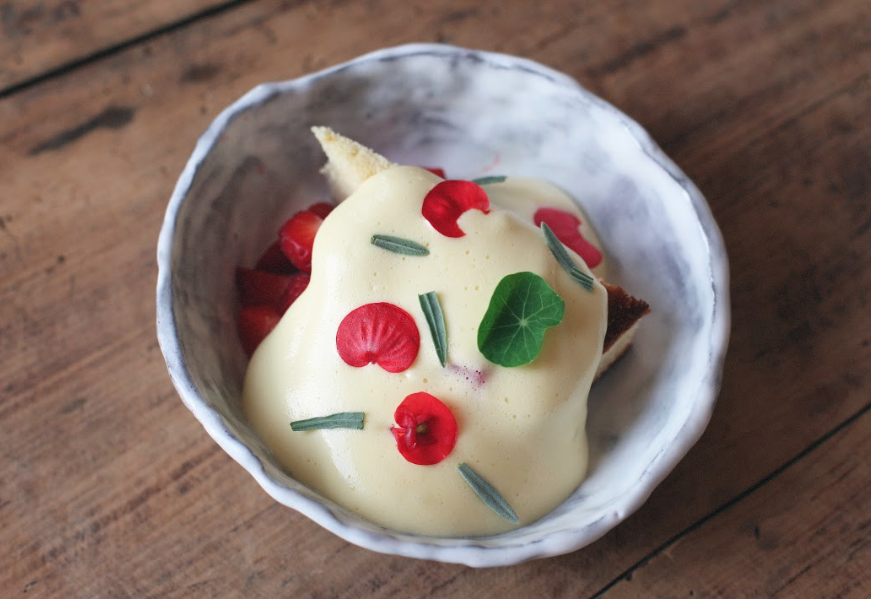 Margherita Cake
3 large free range eggs
Pinch of sea salt
75 g sugar
1 lemon zest
75 g melted  butter
300 g flour, sifted
1 tsp baking powder
Preheat oven to 180°C.
Beat the eggs whites until stiff with a pinch of sea salt and set aside. Beat the egg yolks with sugar until creamy and light. Add the lemon zest and melted butter. Add the flour sifted with baking powder and mix quickly. Stir in the egg whites, stirring from the bottom up. Pour the batter into a baking pan covered with parchment paper. Bake for 30 minutes.
Egg Sabayon
2 Egg yolks
66 grams sugar
118 ml white wine such as Vernaccia
To make sabayon you will need a pot 1/3 filled with barely simmering water. Above that you will need a metal bowl big enough to sit on top without touching the water.
Place egg yolks, sugar and white wine into the cold bowl, and begin whisking above the pot of water as the mixture begins to heat up.
As the eggs start to cook and thicken, the wine will begin to steam the mixture causing aeration.
Whisk for 4-5 minutes until the mixture has tripled in volume and resembles the texture of whipped cream.
Serve atop fruit and cake warm or cold and top with fresh herbs such as lavender and nasturtium.