A Few of Our Favourite Works From The Villa Lena Foundation Collection
Villa Lena Foundation is a not for profit organisation dedicated to supporting international contemporary artists working in art, music, film, literature, fashion and other creative disciplines and fostering opportunities for multi-disciplinary dialogue. Collaboration and exchange are both founding principles of the Foundation that constantly strive to generate new creative outlooks, unparalleled research and exciting new impulses.
Every year, Villa Lena Foundation operates a residency program offering artists between 4 – 6 weeks residencies with on site accommodation and studio space. At the end of their time at Villa Lena, artists donate a work which will be part of the Villa Lena Foundation art collection: donated artworks hang throughout the property, giving the historical spaces a visual memory of past residents' work and their experience of the place.
All donations have a story and are deeply connected to the site of Villa Lena. We have selected some of our favourites from the collection to share …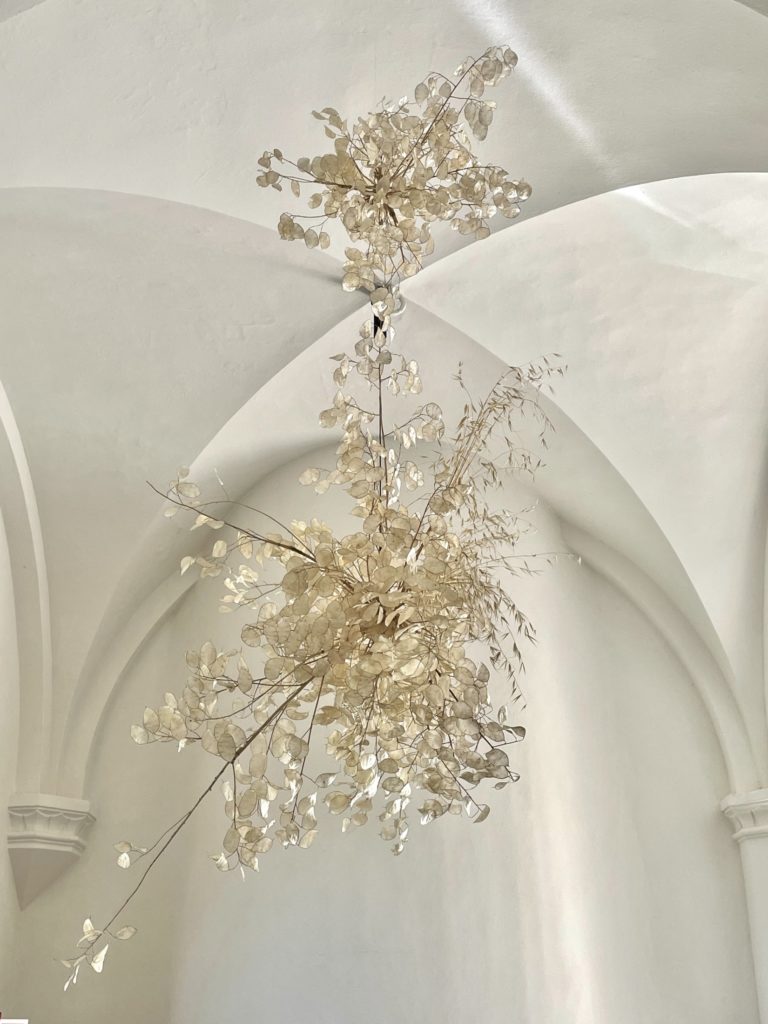 Kristen Usui, Il Fantasma, 2019
Find it in: Reception, Fattoria 
Kristen Usui is a floral designer whose work aims to elevate the senses through visual storytelling. Her West Coast roots and childhood spent outdoors have cultivated her organic design style, using unique botanical elements to create gestural shapes. For this work, Usui foraged from the estate and surrounding woodlands to create her 6 ft tall installation of lunaria, the honesty plant. It hangs sublimely from the vaulted ceilings.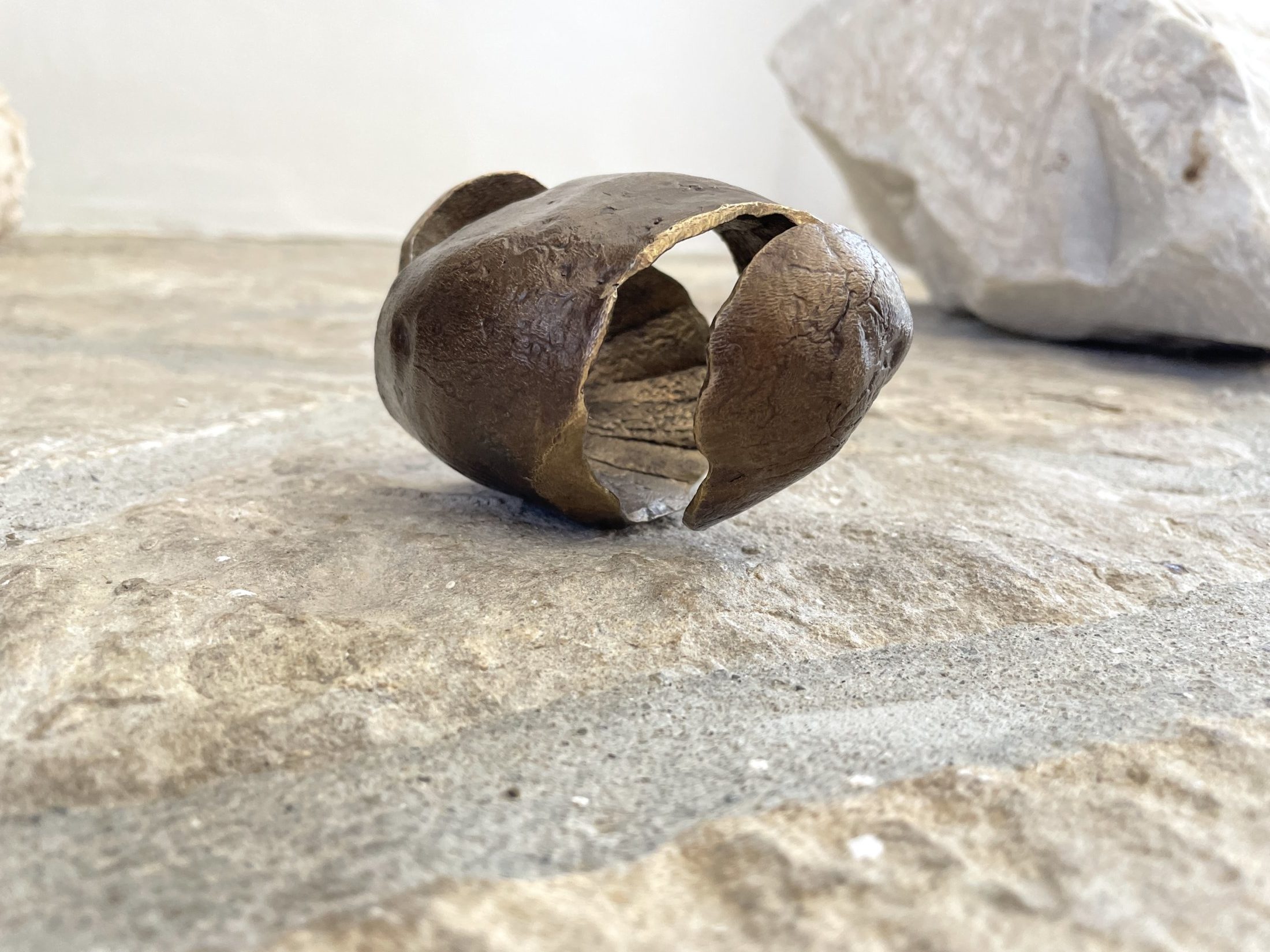 Alicja Kwade, Quantenkartoffel, 2017
Find it in: Art Storage, Fattoria
Alicja Kwade is a Polish-German contemporary visual artist. Kwade's work investigates and questions the structures of our reality and society and reflects on the perception of time in our everyday life. Her diverse practice is based around concepts of space, time, science and philosophy, takes shape in sculptural objects, video and even photography.
Kwade's precious sculpture of a potato peel is cast out of bronze. Have a peek through the clear door into the artwork-packed room to see if you can spot it, or ask a member of the foundation team to open it up to show you the treasures inside.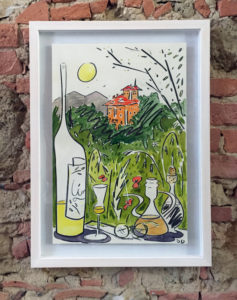 Dickon Drury, Villa Lena Digestivo, 2018 
Find it in: Room 32, Fattoria
Dickon Drury's vivid, jam-packed canvases approach still life, portraiture, and landscape scenes with a sense of wit and play. With a vibrant palette, Drury paints full, energetic compositions that threaten to spill out of their frames.
During his residency, Drury spent his time sketching in the olive groves and consuming digestivos under the Tuscan sun. Inspired by both the natural and social elements, he created a still life so specific to this place that it couldn't be anywhere else in the world.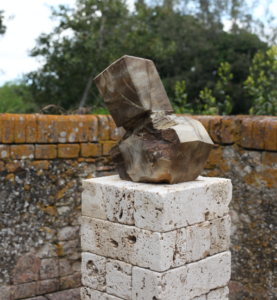 Rory Menage, Carved Leaning Head III, 2019
Find it in: Cassetta Dell'Amore Private Garden, Fattoria 
Rory Menage asks questions surrounding traditional facets of statuary, sculpture and portraiture. His work is dedicated towards discovering new possibilities in portraying naturalism using a variety of raw materials, examining the position of object-making in a digitally biased era.
Situated in the centre of the private garden attached to Cassetta Dell'Amore, Menage's anthropomorphic bust, made from local sandstone, sits serenely on a travertine plinth overlooking the wild woodlands of Villa Lena. An appropriately intimate setting for a poignant piece of sculpture.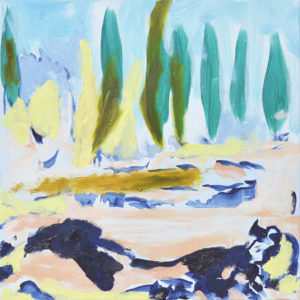 Lola Montes Schnabel, TBT, 2014
Find it in: Room 45, San Michele
Lola Montes Schnabel is an internationally acclaimed painter, sculptor, printmaker, filmmaker and photographer from New York. Her different practices intertwine to influence one-another. This way, she creates a painting from the etching of a print, or uses the still of a film to create another work.
Schnabel's oil painting hangs in a San Michele bedroom; an appropriately dreamy representation of the cypress trees we know and love. Spending time wandering the winding hillside roads and lines of these elegant trees will be imprinted onto your image of Tuscany. 

Gabriele Beveridge, Tuscan Blobs, 2018 
Find it in:  Room 44, San Michele
Gabriele Beveridge is a British Postwar & Contemporary artist who was born in 1985. Their work was featured in numerous exhibitions at key galleries and museums, including the Kai Art Center and the L 21, Son Castelló.
Reminiscent of the dusky blue layers of mountains of the dawn horizon at Villa Lena, Beveridge's triptych is as much a landscape as it is abstract. Merging two cameraless photographic techniques, she experimented with chemicals in a makeshift darkroom to create this unique set of cyanotype photograms. Some works are  just waiting for the perfect spot to be hung!
To find out more about the residency programme visit the VLF site, and get to know the current artists through our workshops and events here.