A Collaboration in Creativity and Sustainability
This year Villa Lena collaborated with Terra di tutti, a social enterprise in the province of Lucca that gives new life to discarded objects and supports craft and its power in giving people from different cultures the opportunity to meet and work together. These ideals align with those of Villa Lena, in both the drives towards sustainability and to facilitate collaboration and conversation through creativity. Terra di tutti created both masks for covid safety and aprons for the food and creative workshops that are run at Villa Lena. 
About Terra Di Tutti 
Terra di tutti is a company that creates job opportunities while promoting integration for marginalised communities, refugees and vulnerable people – providing both economic and social integration. The work is carried out in a circular economy chain that starts at the procurement of waste materials to their processing and transformation into artistic and craft products.
Terra di tutti has a production workshop in Segromigno in Monte (LU) divided into three areas: tailoring, printing / screen printing and wood restoration. The social enterprise, under the artistic direction of Tonja Pierallini, produces fabric products, small pocket accessories such as notebooks, cases, backpacks, bags. The starting point is always the waste materials, these are then reinterpreted with printing or unusual combinations to create products that have a visual as well as ethical appeal. In the wood workshop old disused chairs and other objects are restored through creative interpretation.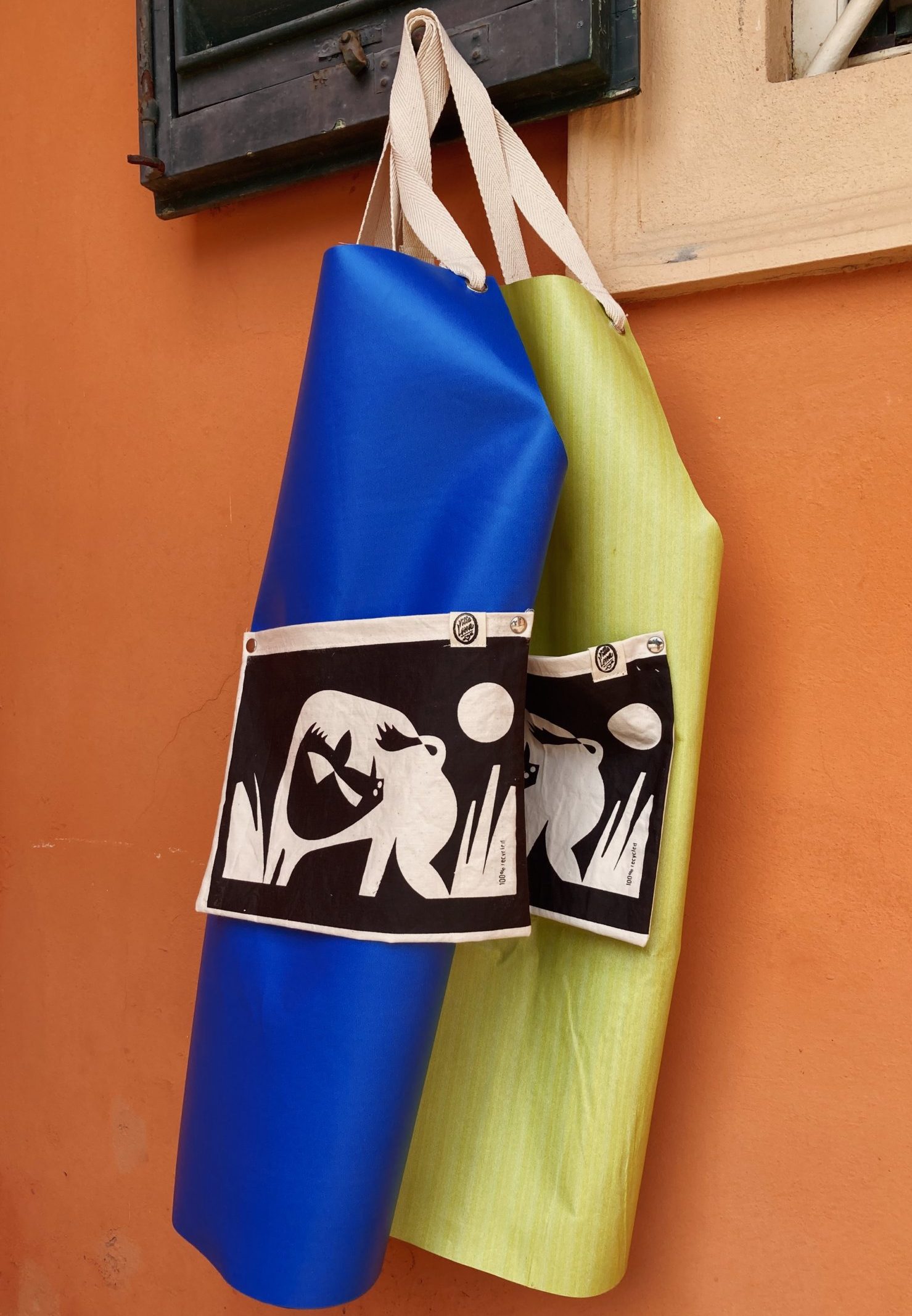 The goal of the Terra di Tutti is to forge collaborations that marry their philosophy and attention to sustainability and old crafts without compromising on the design. This is why the partnership with Villa Lena was born and is a coming together of two projects, their resources and Ideas. 
The Design
Both the aprons and mask use reworked fabrics and bold designs. The key element of the apron design is the PVC repurposed from disused advertising billboards, this means there are many colours and patterns. The pocket, that can be used for holding tools or foraged flower mid workshop, brings the design together, a wild boar is depicted created by Bratislav Milenkovic who was on residency at Villa Lena 2018.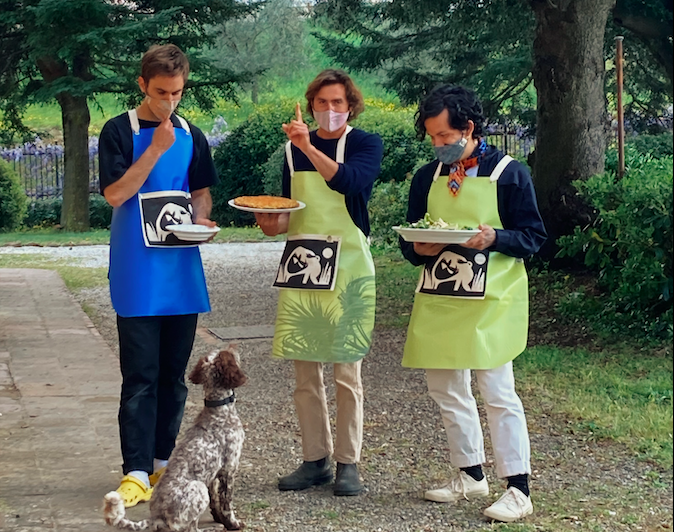 Bratislav Milenkovic is an illustrator, living and working in Belgrade, Serbia. He graduated from the illustration department of the Applied Arts Faculty in Serbia, where his love for illustration and printmaking helped solidify his bold and colourful style. He says 
'The wild boar idea came through the illustration brief, unfortunately (or luckily!?) I haven't seen any boars while at VL but I loved the idea of depicting Tuscany's wildlife and scenery.' 
While in the  Villa Lena residency he experimented with different illustration styles and decided to apply one of them on the apron illustration. It's completely different from his regular work as it is a bit more abstract and expressive at the same time.
To find out more about Terra di Tutti visit their website, and you can see all the workshop we offer at Villa Lena here.