MQBMBQ on the importance of improving accessibility
"My Queer Blackness, My Black Queerness" is an ongoing digital project that explores the multiple facets of black queer identity. It is a protest, a celebration that frames blackness as a polyphony, a genre or melody with a vast variety of notes & textures — denouncing white queer racism, black queer antagonism and queerphobia by way of art, film and literature through methods including fundraising, journal entries, films screenings.
Last year, MQBMBQ launched an open call for Black Queer artists across the world in collaboration the Villa Lena Foundation in order to open up the programme and to create a number of fully funded residency opportunities. From the scores of applicants, we invited two talented artists: Mallory Lowe and Banji Chona hailing from Canada and Zambia respectively, who will participate in the program later this year thanks to the support of Italian luxury brand Bulgari.
Banji Chona
Banji Chona is a Zambian digital art-ivist and art-chivist, based in Rome. Her mission is the deconstruction and reconstruction of orthodox archetypes and normative ideologies through the use of dynamic multidisciplinary art, which has great potential to shift paradigms and inspire children of the Zambezi to live and express their truths that exist at the intersection of historical and contemporary happenstance.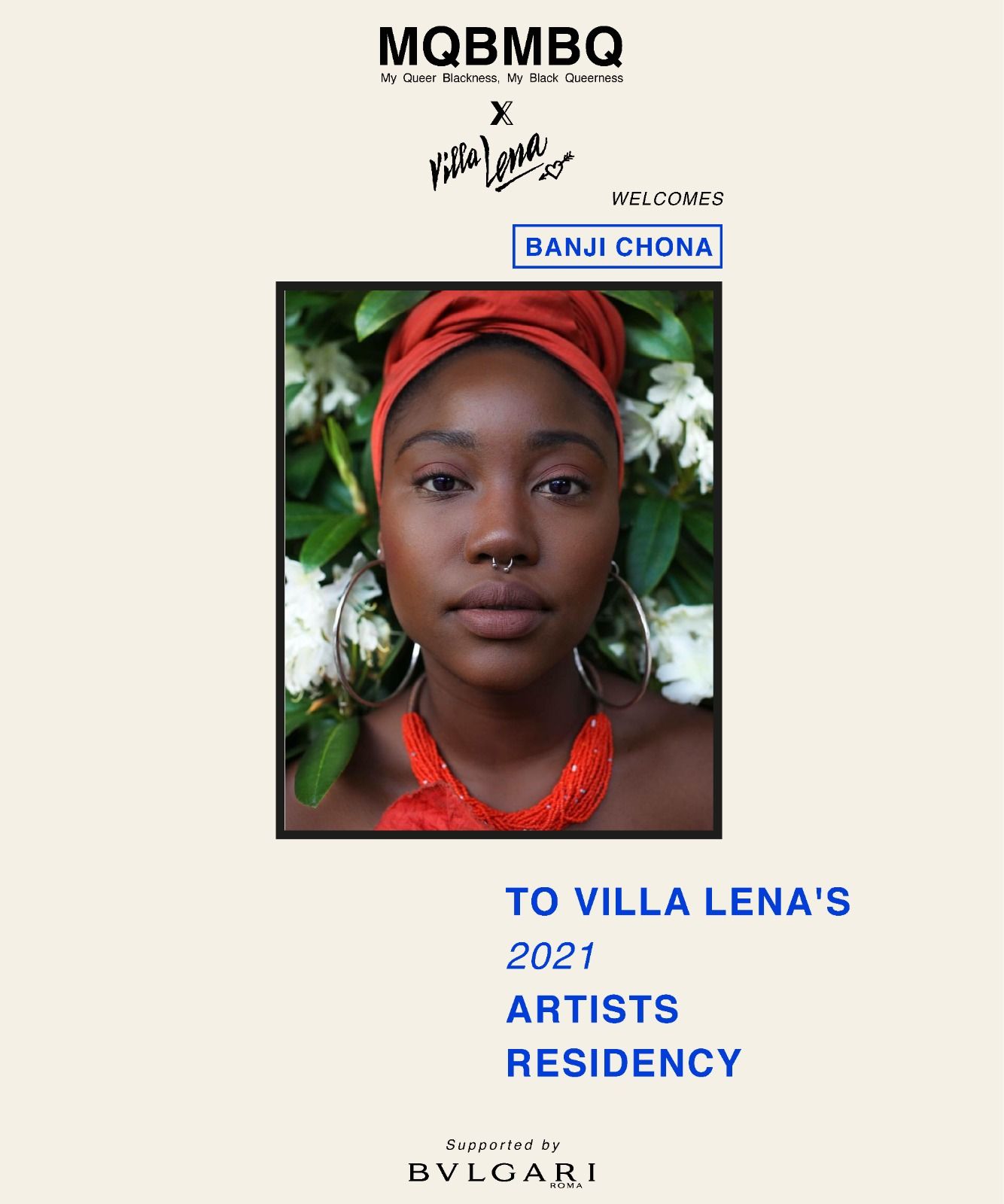 Mallory Lowe Mpoka
Mallory Lowe Mpoka is a queer artist of Cameroonian and Belgian descent based in Tiohtiá:ke -Mooniyang – Montreal. Her practice is informed by transcultural narratives and explores the cultural, socio-political and historical influences in the creation of hybrid identities and diasporic imaginaries. Her work is expressed through screen printing, moving images and photographic analogue processes on variations of natural paper and fabrics. Much of her explorations uncover Black interior landscapes, offering up the possibility that the African diaspora carries their homelands within.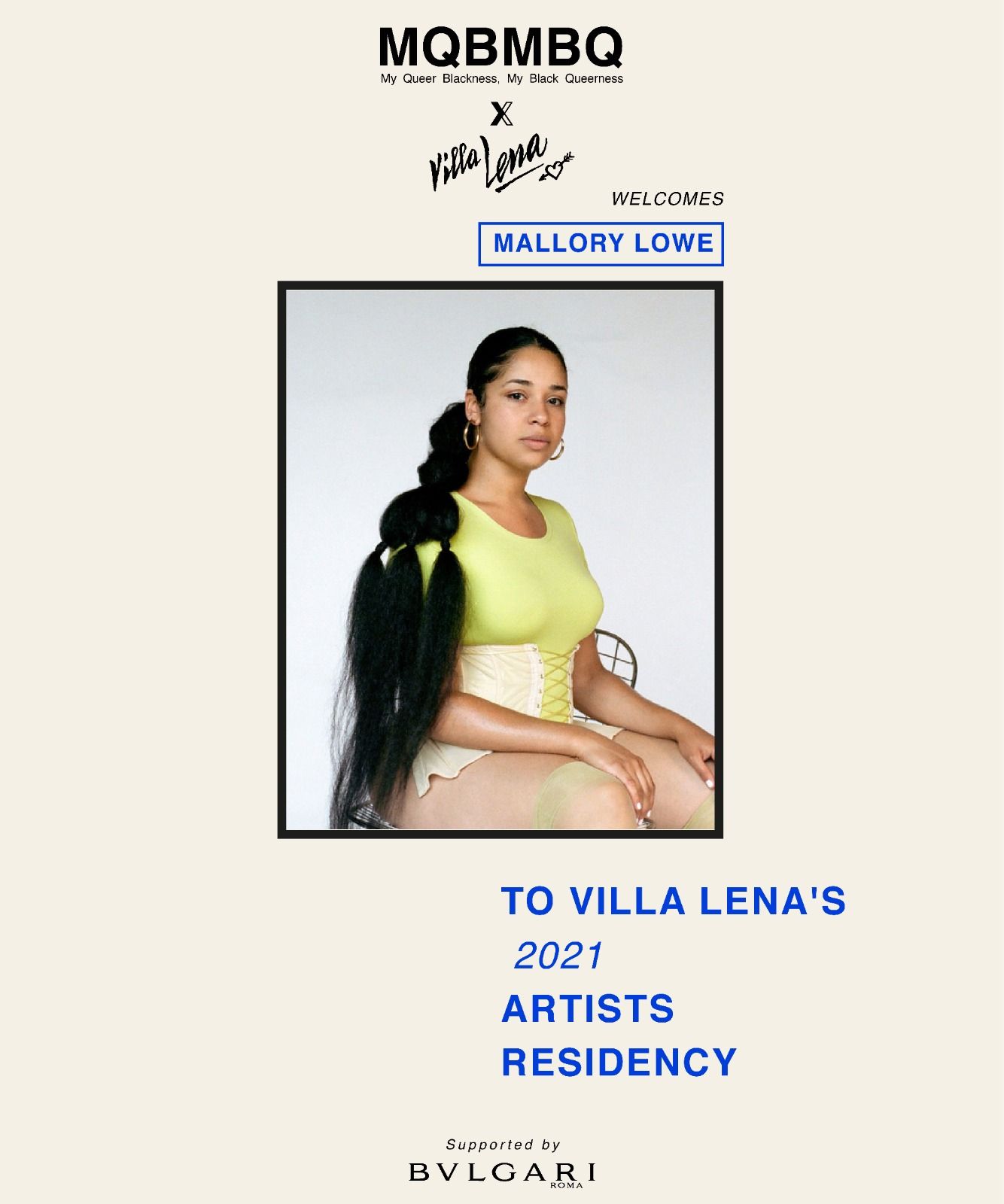 Jordan Anderson is the editor-at-large for nss magazine and online editor for Twin magazine as well as a journalist and creative director. Jordan started MQBMBQ last year.
We spoke to Jordan about the collaboration ahead of the artists joining the residency programme. 
Villa Lena: Can you give us some background on yourself and the types of projects you have worked on/are involved in?
Jordan Anderson: I'm a Jamaican, Milan based journalist and creative director who dabbles between the fashion and the art world. I think most of my projects are aimed at building a bridge between the two, and finding ways to uplift and showcase overlooked and/or minority voices and talent within the industries. 
VL: How did the idea of MQBMBQ come to you and how did you make it happen?
JA: The idea came last June during the Black Lives Matter worldwide protests, and it also happened to be pride month. I realised that there were quite a bit of fundraisers and donations being made to Black Organizations, but nothing was being donated to Black Trans organizations — and Black Trans women were being killed at an alarming rate way before June. So I decided I wanted to do something about that and I reached out to a few friends and managed to launch the project initially as a photography fundraiser , which thankfully went very well, as we were able to donate €12K to Black Trans organizations.  
VL:How has it developed from that first point, what do you see as its future?
JA:Since that point it has flourished quite nicely, we've done collaborations with different brands and people, all of which I hold close to my heart because they're all so very different and dynamic in their nature which is exactly what I'm aiming for.
The idea is for us to continue in this way, to launch collaborations within the fashion and art world where no two are ever the same, but have the same goal of uplifting and supporting dynamic Black Queer talent. 
VL:How did you first come in contact with Villa Lena?
JA:I first came in contact with Villa Lena a few years ago when I did a profile on the Villa and Lena for Document Journal.
VL: What is special about Villa Lena for you, and what can it offer artists-in-residence?
JA:I think everything about the Villa is special, it's so perfectly tucked away in the hills of Tuscany, almost in the middle of nowhere, and with that it's like you're in a little paradise for the duration of your stay. I imagine for artists it's a sort of hibernation, that gives them a break from the normal world, which can be nothing but therapeutic I believe. 
VL: What advice would you give to residencies and art foundations, like us, to be better allies and create more safe spaces and opportunities for black and queer creatives?
JA:I know it's almost a cliché to say but I'd say to make sure that your spaces are diverse and inclusive, in saying that I acknowledge that I imagine your spaces and the people you involve may be diverse,
but I think it's especially important to make sure that these spaces are safe for Black and/or Queer creatives.
Because unfortunately, many times it's one without the other, many times Black & Queer people are included into the conversation, only to find out it's a hostile environment. And this comes through making sure that the people who are creating the spaces know what they're doing as well. 
VL:What do you personally look for in an artist when selecting them for the residency?
JA: I would say I personally look for layers. I keep an eye out for work that involves layers of research or layers of identity or layers or experiences. I really appreciate work that says enough , but not too much and leaves one asking more about the artist and their background. 
VL: Tell us about the sponsorship and working with Bulgari? 
JA:Working with Bulgari was lovely , they were very supportive of our vision from the get go and were really happy to jump on board and support the artists as they're a brand who's been quite committed to social causes in recent years so we were really happy to partner with them. 
VL: What's next for you and MQBMBQ?
JA:Many things ! We have a little lineup for the rest of the year with collaborations and charity projects with a few different brands which should be really exciting ! I can't say too much just yet but follow us to keep posted @mqbmbq !
Villa Lena Foundation is incredibly excited to be collaborating with Jordan and MQBMBQ. We'd like to thank Jordan, their team, and Bulgari for their work, partnership, and support. We look forward to continuing to work together to create more opportunities. 
For more information and to support the important work of MQBMBQ and Jordan's projects go to mqbmbq.com to find our more about the artists in resident visit the Villa Lena Foundation Website here