Our chef Enrico's sage and butter ravioli is a firm favourite at Villa Lena. Try making it yourself for a little taste of Italy at home!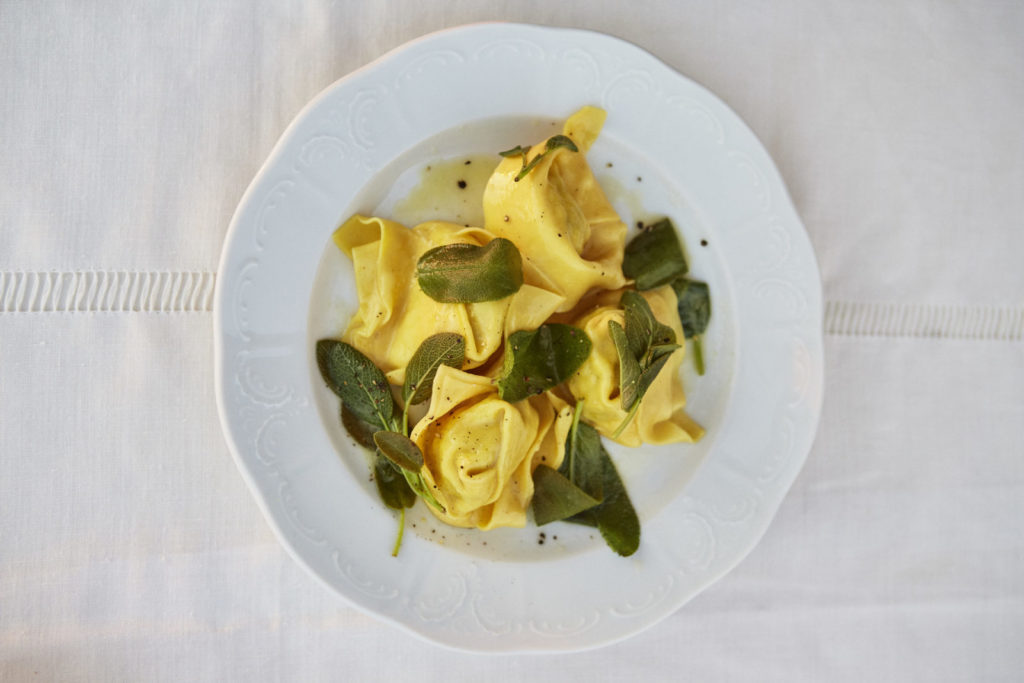 Makes 24 ravioli
For the dough:
250g 00 flour 
2 eggs 
1 yolk
For the filling:
Spinach 250g
Ricotta cheese 125g
Parmigiano Reggiano 50g
Nutmeg to taste
Salt
Black pepper
For the sauce:
Butter 40 gr 
Sage 5 leaves 
Clean the spinach leaves and put them in a large pot. Boil them on a moderate heat for 10 minutes. When cooked, place them in a colander and crush them with a spoon in order to remove the water. Put the spinach, ricotta, grated Parmesan cheese, eggs and a pinch of fine salt in a bowl. Mix everything well. 
Collect the sifted flour on a pastry board and create a well in the middle. Shell the eggs one at a time in a bowl, then pour them in the centre of the flour well and beat them with a fork very carefully. When the egg is combined, begin to incorporate the flour, starting from the centre of the well to prevent it from breaking and the eggs from spreading on the board. When all the flour has been mixed, a loose and grainy mixture will be obtained. Shape it into a compact ball, and leave it to rest for 15 minutes wrapped in clingfilm. 
Take some of the dough and roll it in a thin sheet using a rolling pin, or a pasta machine. Once the first sheet is ready, distribute the filling in small piles. Cover the sheet with a second sheet of dough, pressing all around the filling. Trim the ravioli with a cutter. 
Melt the butter in a pan with the sage leaves. Turn off as soon as the butter is melted and cover. Boil the ravioli in plenty of salted water, for a couple of minutes at the most. Drain them gently with a slotted spoon and transfer them to the saucepan with the butter and sage over a high heat, moving and turning them very gently.
Serve warm with grated parmesan cheese, and enjoy!