by Alexis Delaney, chef-in-resident of the years past
The first year that I came to Villa Lena, I was picked up at the train station in Pontedera. After a brief stop at the local coop supermarket to pick up a few spring-in-Tuscany essentials (raw fava beans, pecorino, bread and salami) our tiny car made its way along the curving and bumpy road between Palaia and the villa. Despite my jetlag and lack of sleep that previous night, I was struck by not only the incredible views and terrifying blind turns, but also that the road was lined with elderflower trees and they were in full bloom.
I couldn't wait to get back on that road, this time on foot to collect the crowns of fragrant and tiny blossoms, which bloom prolifically between April and June. I headed out with my husband and visiting photographer Ellie Tsatsou to collect the clusters and transform them into a delicious and unique elixir for our aperitivo the next evening. We snipped a basket full of the branches and made sure to keep them upright lest any of the magical pollen and flavor fall to the road.
Once back in the kitchen, I trimmed the heads of their leaves and stems, which lack the same delightful aroma, and made a light simple syrup with sugar, water and a bit of lemon peel. After the syrup had cooled a bit, the washed flowers went in, and stayed there for 24 hours for the flavor to steep. The next day, I strained my concoction and made my self an elderflower lemonade with some lemon juice, the syrup and sparkling water of ice. Then that evening, we substituted the sparkling water for prosecco and enjoyed our drinks by the pool at sunset!
I brought some of the non-alcoholic version down to Anna, who works in the Villa Lena office, the next day. She informed me of an ancient Italian recipe in which the blossoms are dipped in batter, fried and sprinkled with sugar. Known as fiori di sambuco fritti in Italian they are a delicious and unique dessert, especially when served with a bowl of sweetened and whipped ricotta.
Elderflower syrup
This syrup will store for months. Dilute it with soda water or prosecco for a refreshing spring drink. For an inventive take on a French 75 cocktail, add a shot of gin or cognac ½ a shot of the syrup, top with prosecco and garnish with a strip of lemon zest.
500 grams sugar
1 liter water
1 lemon, zested with a vegetable peeler
15 elderflower crown
In a saucepan, heat the sugar, the water and the lemon zest until the sugar has completely dissolved. Remove from the heat and allow to cool until warm to the touch. Add the elderflower blossoms. Once the mixture is at room temperature cover and leave for 24 hours. The next day, strain through cheese cloth. Pack into sterilized containers and refrigerate.
Elderflower Fritters
These fritters use a basic tempura batter with prosecco instead of soda water to add flavor and color. Make sure the prosecco is cold for a light and crispy batter.
75 grams flour
75 grams corn starch
325 ml cold prosecco
2 dozen bite-sized clusters of elderflowers
1 cup granulated sugar
1 lemon, finely zested
flavorless oil for frying
Mix the sugar and lemon zest until well combined.
Gently wash blossoms in a bowl of water and remove to a towel to dry. Fill a pot with vegetable oil no higher than halfway, or you run the risk of boiling over. Heat the oil until a deep fry thermometer reads 350 degrees F or 180 degrees C. Prepare batter by whisking both flours and prosecco until just barely combined. Do not over mix. Working in batches of four or five, dip blossoms in batter until evenly coated and lay them in the oil. Avoid over crowding the pan. After a minute, flip the blossoms once with a slotted spoon, fry another minute, and remove to a paper towel. They should take no more than 2-3 minutes, and should be a golden brown.
Toss while still hot in the lemon sugar and serve immediately with honey whipped ricotta.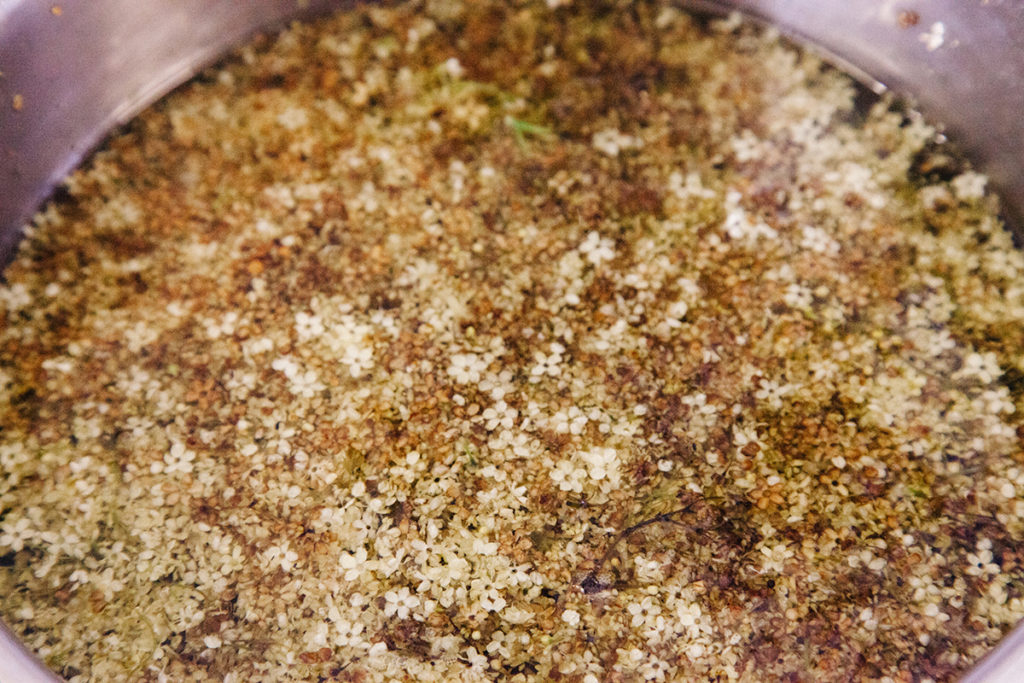 Honey whipped ricotta
1 cup ricotta
1 tablespoon mild flavored honey, or to taste
Small pinch of salt if necessary
Combine all ingredients in a bowl and beat until smooth and light, about 2 minutes.