Contributors to the 2021 creative programme at Villa Lena
Villa Lena is a unique agriturismo in the authentic heart of rural Tuscany combining holiday accommodation, a farm-to-table restaurant and a not-for-profit art foundation. 
The Villa Lena Foundation invites artists to live and work at Villa Lena for four weeks at a time throughout the season which runs March to November each year. During their time at Villa Lena artists have the opportunity to explore their work in the unique communal and social setting. Each group of artists, usually between six to eight, has the run of the Villa and the artists village in order to create and be inspired, often new collaborations and project ideas are developed during the informal moments, at the weekly open studios, around the dinner table or over a glass of sparkling rosé wine.  
Be part of the Villa Lena Foundation Community 
Throughout the season there are many ways that guests and visitors can get involved with the work that the Villa Lena Foundation does – we invite you to experience our program of events including Chef's table, where guests are invited to enjoy a seasonal meal curated and prepared by the chef in residence with the current artists in residence; take part in our curated creative workshops, whether you're staying at Villa Lena or visiting with a day pass; or come for a private tour of our Art Foundation, learning about all that we do to support artists.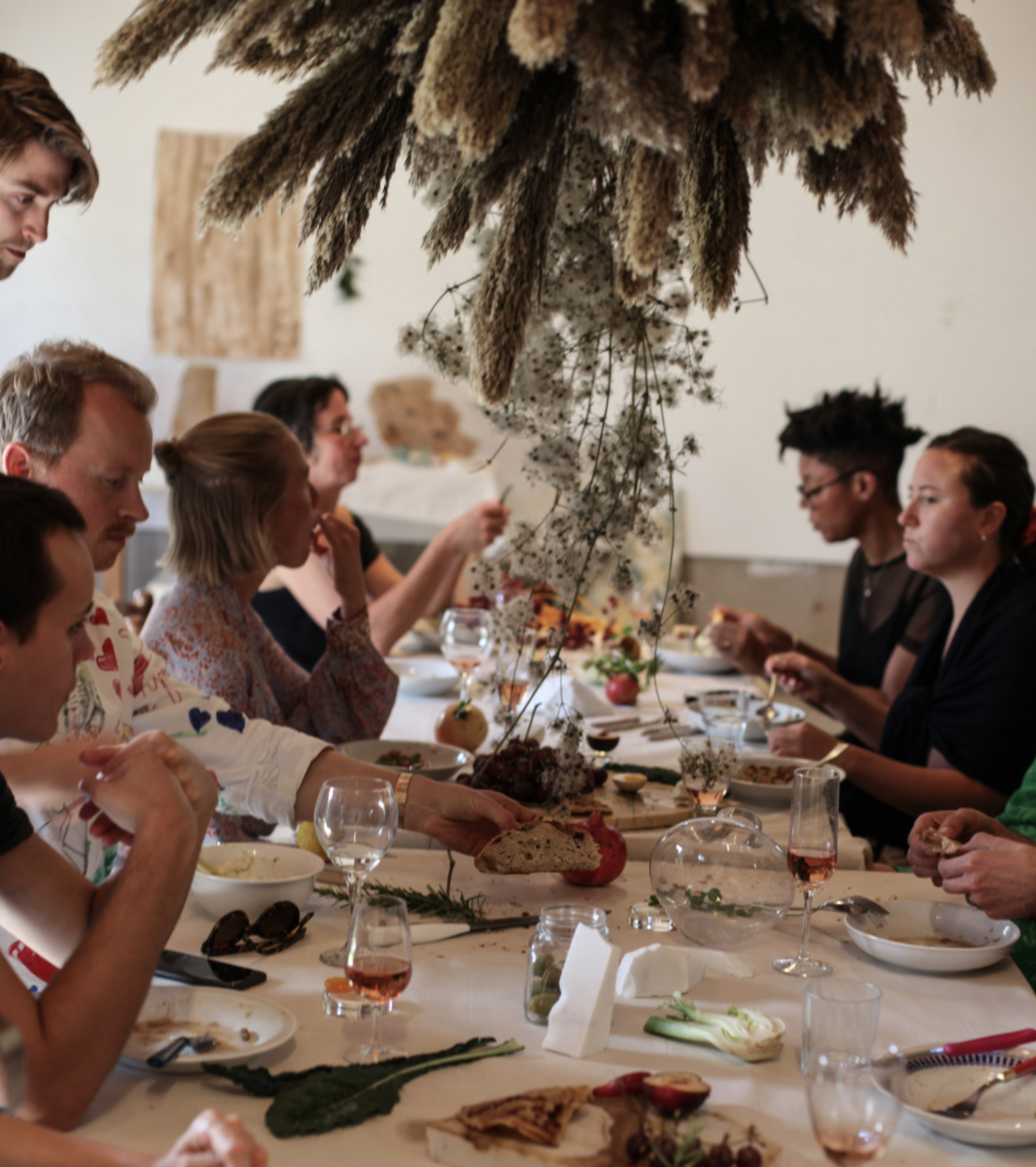 Creative Contributors 
Creative workshops are at the core of what we offer, at Villa Lena everyone has the chance to be creative and to get inspired by the rich natural surroundings. A few artists are selected each year to come to Villa Lena as Creative Contributors. They are chosen by the Foundation and its advisory board based on their practice and experience in facilitating workshops. Creative Contributors curate a number of workshops specifically for Villa Lena and facilitate three workshops a week during their stay, allowing guests to explore workshops from collective embroidery, printing with natural dyes and hand building with clay.
We are excited to share with you the details of the Creative Contributors who will join us for the first half of the 2021 season.
Hand-Building and Glazing Ceramic workshops 
The first creative contributor joining the community for the 2021 programme is Rain Wu, a British-Taiwanese artist and architect living and working in London. Her work is conceptually driven and materialises in different forms and scales from drawing, sculpture, food performance to architectural installation. Her workshops at Villa Lena will be inspired by archeology objects, taking inspiration from Tuscany's famed tradition in producing terracotta clay long before the Renaissance. Workshops will cover both Greco-Roman and Etruscan ceramic techniques through Hand-building Clay workshops, where participants will learn about traditional motifs and stories engraved on the ceramic within both cultures. Participants will get the chance to create their own ceramic pieces and learn hand building and engraving techniques.
Participants are then invited to continue work on their ceramic pieces, or create patterned tiles during a Glaze Painting workshop that covers many techniques. Whether you are a seasonal ceramics or beginner, explore the wonderful material of clay in the unique setting of Villa Lena.
Natural Dyes and Printing workshops 
Nadine Goepfert  joining us from Berlin, will be returning to Villa Lena to build on her research started in 2018 as creative contributor. She will be running a number of workshops that explore working with textiles, alongside picking up on collaborative projects with the Villa Lena team. Nadine is a multidisciplinary designer offering creative direction, design and consultancy on textiles and materials for interior, product, art and fashion. She investigates contemporary culture to create intelligent concepts and material innovations for clients from various fields. In workshops led by Nadine, participants are invited to examine intuitive ways of designing and creating simple patterns inspired by the (natural) surroundings of Villa Lena, while exploring techniques such as painting, natural dye and plant pounding.
Workshops will include Tablecloth and Napkin Design where participants will learn different techniques of working with fabrics using natural dyes and fabric paints and get the chance to create a set of napkins and contribute to a collective table cloth design. Alongside this there will be a workshop created just for kids, Outfit and Smock Painting, where kids will get the chance to make their dream outfit and a wearable artwork using painting and printing techniques. Nadine will also be contributing to the upcoming  Botanicals Creative Retreat, a five day retreat exploring the magical power of botanicals in art and food, in collaboration with Rebel Rebel's Tuscan Flower School, botanical publication The Plant Magazine. The retreat programme sees daily workshops led by our collaborators along with food experiences and movement classes with the Villa Lena yogi in residence including: Botanical cocktails and tea workshop, olive oil and wine tasting, meditation and breathwork, creative workshops. 
Fermenting and recipe storytelling 
Inês Neto dos Santos will be joining the Villa Lena programme for a second time, having contributed to the creative workshops in 2019 and will be exploring both the world of fermenting and creative recipe writing with participants while at Villa Lena – expanding on the research and projects she carried out previously. Inês is a multi-disciplinary artist, based between Brussels and London and her practice stands between performance and installation, using food, people and spaces as metaphors and prompts for discussion and conversation. She creates contexts and frameworks through which to explore sustainability, narrative, collaboration and togetherness. Alongside her art practice, she teaches, writes and cooks – to inform her work in a variety of ways.
Join a Fermen-tour workshop that explores fermentation as a metaphor for collaborative practices, community living and autonomy. In this session participants learn the basics of fermentation, pickling and preserving and will take home recipes, as well as samples of their ferments. Or explore creative writing in What's in a recipe? a workshop looks into the possibilities of the recipe format and its potential to become a piece of creative writing. Participants will have the chance to learn about different recipe formats, understanding their potential for storytelling. 
Play with Clay workshops 
Through sculptural installations of objects in ceramics, metal and textiles, Méabh Breathnach an artist based in Glasgow, questions where objects come from and what objects mean; the processes, the crafts, the people and the stories behind them. By subtly or dramatically changing the materials of these objects she attempts to expose and change the narratives that they tell, questioning what is aesthetically beautiful and valuable by using various skills to cast objects in different roles, 'transforming ephemeral memories into crystallised objects, making the historic intimate and the scientific fallible'.
At Villa Lena Méabh will be introducing guests to the technical process used to create ceramic objects though a series of accessible workshops, including Press-moulds and tile making, where participants can sculpt their own tile in clay from a number of plaster moulds, multiple identical tiles can be created using this traditional method. Other experiences on offer will include Throwing Taster Sessions and Hand building workshops, where participants can learn the basic principles of throwing and have a go on the pottery wheel with guidance from Méabh.
Within all workshops participants will be invited to share skills, learn and get inspired by the artists, each other and the amazing surroundings of Villa Lena. 
Come and be part of our creative family at Villa Lena in 2021. Discover our full programming on the What's On page, find out about upcoming Creative Retreats and discover the Villa Lena Day Pass.