Our foundation intern Issy Carr wrote this travel feature for Town and Country UK online this month. She presented readers with the perfect guide to enjoy Florence in a short time frame. 
Where to Stay: Hotel Palazzo Guadagni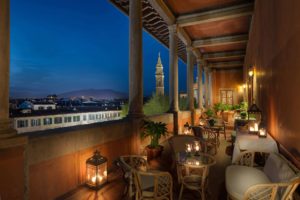 The roof terrace at Palazzo Guadagni. Credits Palazzo Guadagni
Location is key when you have little time in a city and nowhere is better situated than old-school Palazzo Guadagni. This hotel is at the heart of one of Florence's coolest squares, Santo Spirito and surely hosts one of the best roof terraces in the city. It's a magical spot to enjoy a sundowner or a morning espresso, for there is nothing better than watching as the sun dances across the city rooftops.
https://www.palazzoguadagni.com/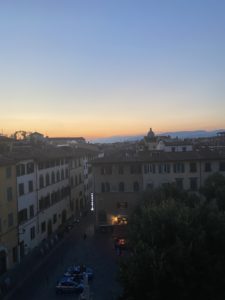 The sun sets over Santo Spirito from Palazzo Guadagni. Credits Issy Carr
Where to Eat and Drink:  Il Santo Bevitore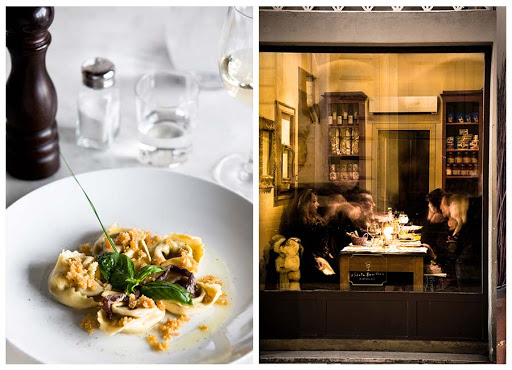 Il Santo Bevitore. Credits Il Santo Bevitore
Along with Camillo and Alla Vecchia Bettola, Il Santo Bevitore is surely one of the coolest joints in town for dinner. It also has two wonderful sister spaces, the wine bar Il Santino and a bakery, S.Forno. This trio dominate that pocket of the street, effortlessly pulling you into their intimate spaces. Head to Santino for wine, but Il Santo is the spot for dinner. It's charming, chic and great fun, I particularly love eating at the tables set out in the street, especially in the warmer months. The service is impeccable and the food is sublime. The menu alters, but standout dishes for me on recent visits have been marinated tuna, chicken liver terrine and a sour cherry pie with pistachio cream. It's a special spot that pairs both creative experimentation and continuity, in such a way that you know that every experience will be different from the last, yet you can still be sure your visit will be nothing less than remarkable.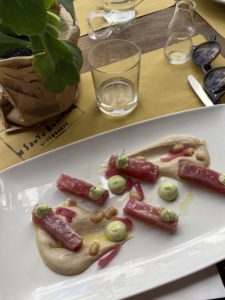 Lunch at Il Santo. Credits Issy Carr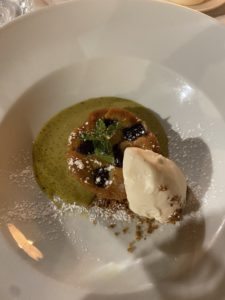 Desert at Il Santo. Credits Issy Carr
Where to go for Aperitivo: POP
Aside from sitting on the walls of the Arno or up at up at Piazzale Michelangelo with friends and a few drinks, POP in Santo Spirito is my go to spot for a Spritz. I was introduced to it by an artist friend in Florence a few weeks back and now always stop by when I'm in the city. What's best is they serve the most delicious snacks to accompany your aperitivo, these include Nocellera olives, fresh bread with guacamole and tomato salsa. It's great both early evening or late at night, POP never disappoints.
Where to go for Gelato : Gelateria Santa Trinita
Ice cream at Santa Trinita. Credits Gelateria Santa Trinita
Situated on the South side of the river with extraordinary views of the Arno and towards the Ponte Vecchio, Santa Trinita is my favourite spot in Florence for Gelato. The historical setting of the Frescobaldi Palace Bridge and breath-taking views anticipate the colourful flavours that await inside. It's a great place to stop off in between sightseeing at the Uffizi or the Duomo and heading to Santo Spirito for Aperitivo. Black sesame, pistachio and chocolate are all favourites of mine at Santa Trinita, but on a hot day I sometimes opt for a citrus granita, a Sicilian iced desert.
http://www.gelateriasantatrinita.it/en/index.php
Where to Visit: Uffizi & Santa Maria Novella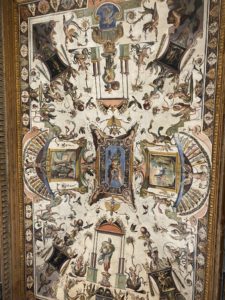 The ceiling at the Uffizi. Credits Issy Carr
The Uffizi is undoubtedly one of the best museums in the world, renowned for its exceptional collection of Renaissance art. There is a tendency now for visitors to look around only through the screens of their iPhone,  so my tip is to shut your phone away and look up – particularly as the colourful ceilings Uffizi are a highlight. Personal favourites are Hugo van der Goes' Portinari Triptych, Artemesia Gentileschi's Judith and of course Titian's infamous Venus D'Urbino. There's also a gorgeous roof terrace at Uffizi which is a great place to stop halfway through the gallery for a glass of frizzante. Another favourite spot is Santa Maria Novella, it's a beautiful church home to emblems of the Florentine Renaissance. For example, Masaccio's Holy Trinity and Domenico Ghirlandaio's Tournabuoni Chapel. Santa Maria del Carmine, Santo Spirito and San Miniato are all churches worth visiting too.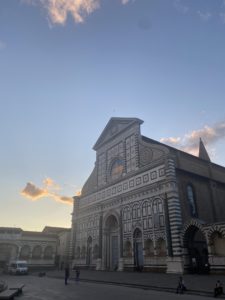 Santa Maria Novella. Credits Issy Carr
https://www.uffizi.it/en/the-uffizi
Where to Shop: Epoca, Clochard & Santa Maria Novella Pharmacy
Of all the cities I have visited, Florence is definitely one of the best for vintage clothing. I stumbled upon Epoca many years ago and found myself adding an essential piece to an ongoing collection of vintage clothing – embroidered Roberto Cavalli flares. Epoca is great for statement pieces, with a carefully curated selection of bold and brilliant clothing. Clochard was a recent discovery, it's a small, unassuming little shop with the loveliest owners who allow you to rummage around for the perfect piece. I recently found myself a gorgeous pink silk nightgown there for a reasonable price. Finally, my favourite spot for gifts is the world's oldest apothecary, the Santa Maria Novella Pharmacy. It's here that I pick up rose water to take back home to my Mother and Grandmother in the UK, it's a really special spot with the most beautifully packaged botanical treasures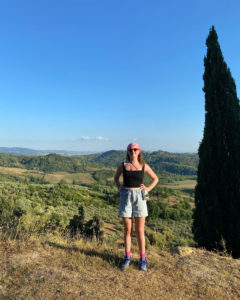 Our foundation intern Issy Carr. Credits Tash Cox