About Chiara Leto
Chiara is an Italo-British artist and Textile designer who was an artist in resident and creative contributor in 2020 and 2021 at Villa Lena. Her journey to where she is now, was shaped by her curiosity and drive to explore not only different parts of the world, but also different facets of creativity. She studied fashion design in Milan in 2008, but didn't feel aligned with the standard values of the industry at that time. She sought to pursue other mediums of art, completing her MA of Illustration in Urbino and Portugal. Since 2017, she has been working on her own personal textiles by combining her skills as an illustrator and fashion designer. She is currently seeking ways to adapt to more sustainable techniques for textiles design, such as natural dyes, innovative fabrics and printing methods.
Artists in Residence at Villa Lena
Chiara has spent her time at Villa Lena foraging plants and waste to turn into dyes for fabrics and textiles. She also ran a number of workshops that shared her skills and passion in this area of design including 'Botanical sketching' and 'Creating natural inks using vegetables and plants' workshops.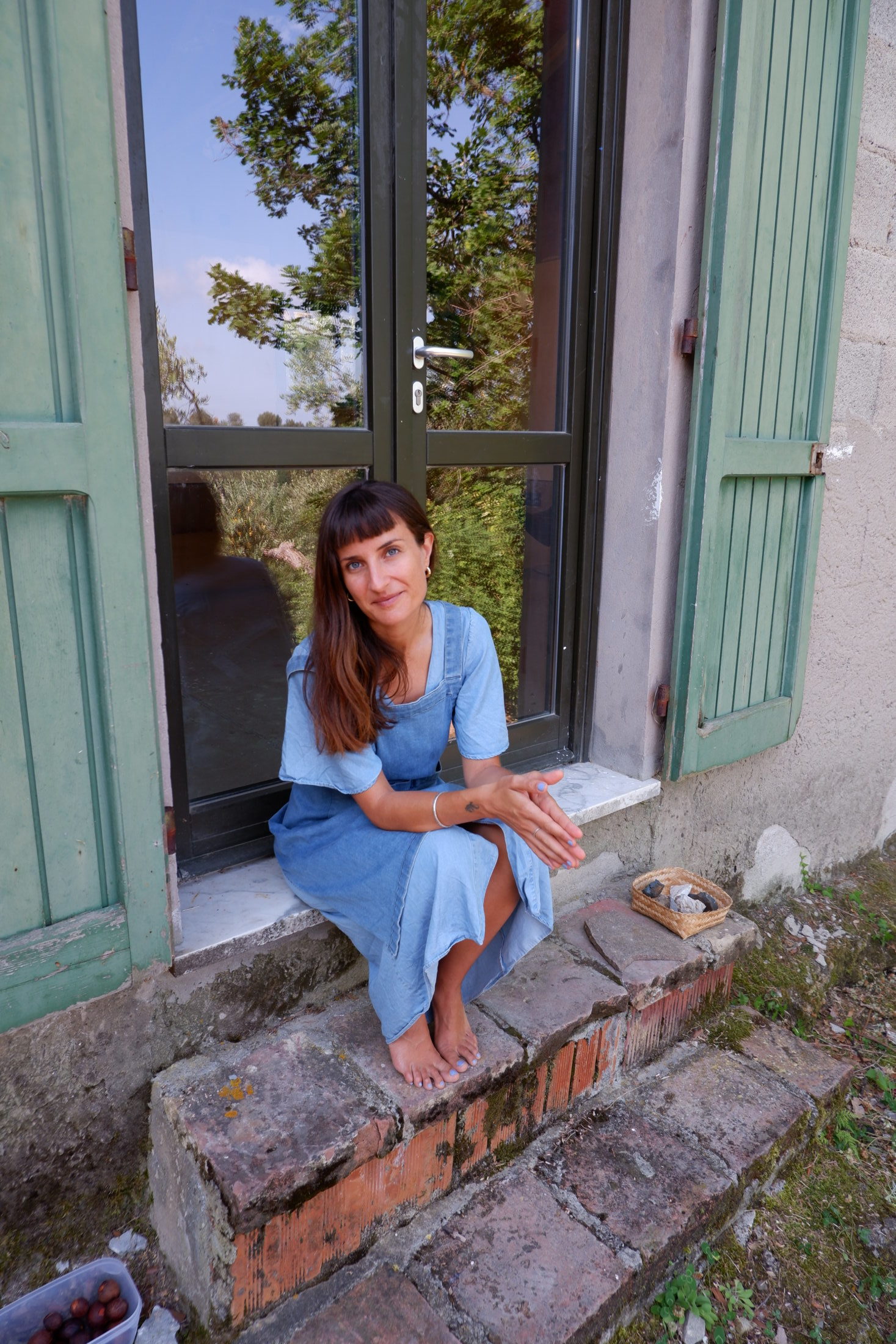 We spent some time with Chiara in the studio and asked her a number of question to find out more about her work…
Villa Lena – Tell us about your studio at Villa Lena and your practice here. 
Chiara Leto – My practice is so messy. I need room to be able to spill and splash my dyes. The thing I enjoy the most about being at Villa Lena is being able to dispose of my empty dye pots – it's a luxury. Also the light here – being so immersed in nature is really inspiring because for my practice it's important to be close to trees, and stepping out of my studio and getting access to all of these ingredients. 
The Villa Lena Residency has given me the opportunity to have the space to start a project and methodically make work. I can envision my future life – in the countryside, blending textiles and land. Otherwise my practice becomes stagnant. 
This studio has elevated my work from craft into Art. That's what I've been pondering – how to take these bi-products and make great art with fabrics and materials that aren't usually associated with contemporary art. It's an incredible realisation. The need to shift.
CL – So it was my residency last year where I learnt about natural dyes – before I was working with textiles and screen printing in Bali – with COVID I had to be back in Rome. I was given the opportunity to be a resident and had to think about what I had available. I stayed three months studying and foraging. I've been everywhere with my basket collecting and experimenting. Having the studio gave me time to retrain; so when I was invited back I knew what I wanted to do and what to forage in this particular season of august.
VL – What have you been using for natural dyes this summer?
CL – It's dry so I have had to be resourceful. Olive and fig leaves are perfect for now. Pomegranates are heaven – there is a fig tree by the pool and last year when the hotel was closed there was an abundance and all of the flowers had fallen – they created this incredible ochre colour. That was the starting point of my natural dye discovery – from here I went to avocado stones and onion skins, which I boil, reduce and dye patches of fabric. 
VL – How has your work evolved this year?
CL – I used to create illustrations inspired by my travels – a visual diary printed onto textiles – I always imagined myself old and remembering particular moments in my life through my work – it was very figurative and representative. This year I wanted the work to represent the land and the place; to find a way of representing in an abstract way this territory. I've created a large scale patchwork of textiles dyed by natural products foraged on the estate; I've removed the illustrative aspects and now focus on the essence of this place.
This happens in the process too right – I take away the shape and the form and boil it down to its true essence and set it in fabric to be taken with me.
I really like the concept that these dyes don't stay forever – they change and have varying lengths of life – they're alive in their own way – ephemeral. Like my time here – it was fleeting and the memories and lessons and perspective will change – the materials really reflect the nature of memory – they evolve, change and sadly sometimes degrade – but there's a beauty in coming to peace with that.
I've definitely been influenced by the relationship between, place, nature and landscape – taking this immersion I want to abstract it. So each patchwork is dyed by something from the 500 hectares. I like to think of the patchwork as a sensory portrait of Villa Lena. I have found dyes from across the estate, many individual fragments that when held together pull Villa Lena as a whole into sharper focus.
Wherever I place this work, it brings Villa Lena to it and you to Villa Lena. This transportation is something I'd like to take with me. I'm pulling together the restaurant, hotel, foundation so that my work is a product of myself but is also a product of the land, the place, of Villa Lena. 
VL I love this exploration of memory through your work, the emphasis on the sensory is genius, can you talk more about that in the process.
CL – It's the first thing that people talk about when they come in – the smells from the pots on the stove – it's a very culinary process. I wonder if I hadn't been doing this if I hadn't interacted so much with the garden and restaurant staff – the food we eat is grown here and nourishes us – I guess I'm nourishing my fabrics –  feeding oneself off of the land you are on connects you to it – growing and foraging your food really teaches you where you are and brings you into the present. 
The way I approach natural dyes reduces how much I can produce so each work is unique and sacred. It forces you to get outside, to walk through mud, scratches on your arms, climbing on your fence. The whole process is fucking cool to go out and get my colours from the ground and not knowing whats going to come out is endlessly fascinating and empowering – I'm constantly learning and adapting. 
It feels like witchcraft or alchemy – the results are so dependent on nature. The rosemary bush last year produced vivid greens and this year the same bush is producing purples.
Intense theological questions come to the surface through this process – is nature a product of chance or design – and this is what happens in works too. Initially I was stressed because I wanted to make a work that was the particular set of colours within the VL landscape and they all changed – but ultimately the product is what the plants decide to yield. I had to reconcile that I wanted to make a literal representation which didn't happen but that nature had given me it's version of itself – I like the idea that my sitter has had a say in how it is shown – it reminds me that this [Villa Lena] is a living and breathing organism. 
Chiara Letto is based in Rome, more info can be found about about her here  
For more information about the residency and foundation see our website here