Former artist in residence and host of our Creative Botanical Autumn Retreat from October 13th to 17th, Evalie Wagner reflects on her time at Villa Lena during her late summer residency , recollecting memories in a love letter to the people and places that made her experience magical
Che sarà sarà
It is September 13
I am driving up a dusty, bumpy road
passing by an abandoned village
and a white horse snoozing in the shadow of an olive tree.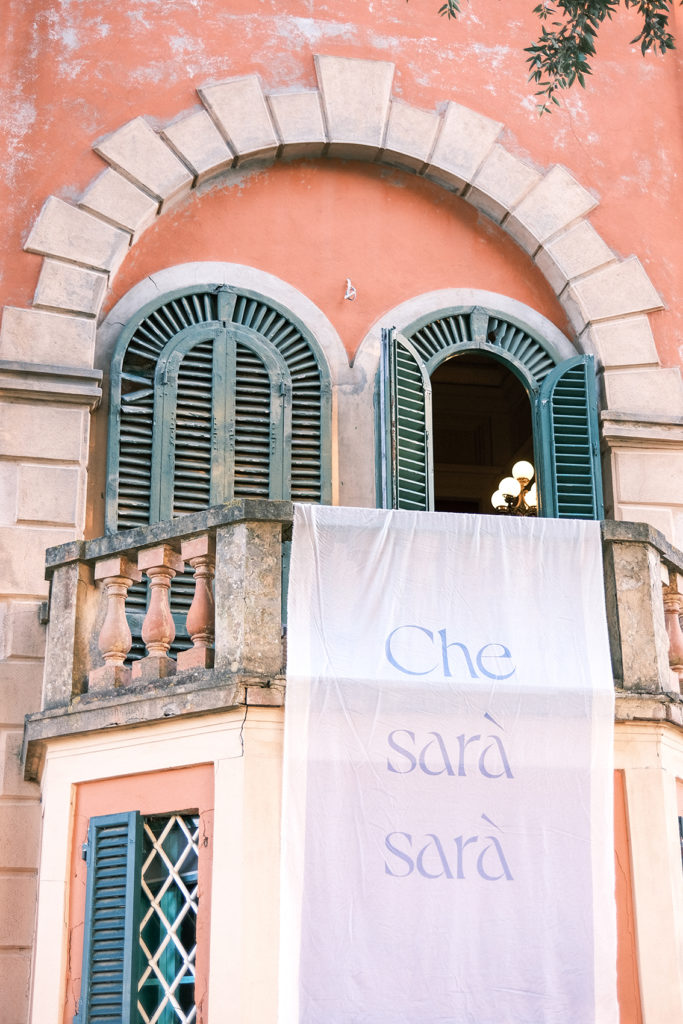 Arriving at the Villa 
the tiles are the same like in my grandparents' farmhouse, 
hundreds of kilometers up north.
Everything here reminds me of Italo Calvino´s book
"Il Barone Rampante"
in which the protagonist defies his parents to live in the trees. 
A way of life that is not commonplace. 
Suddenly I found myself in this scenery.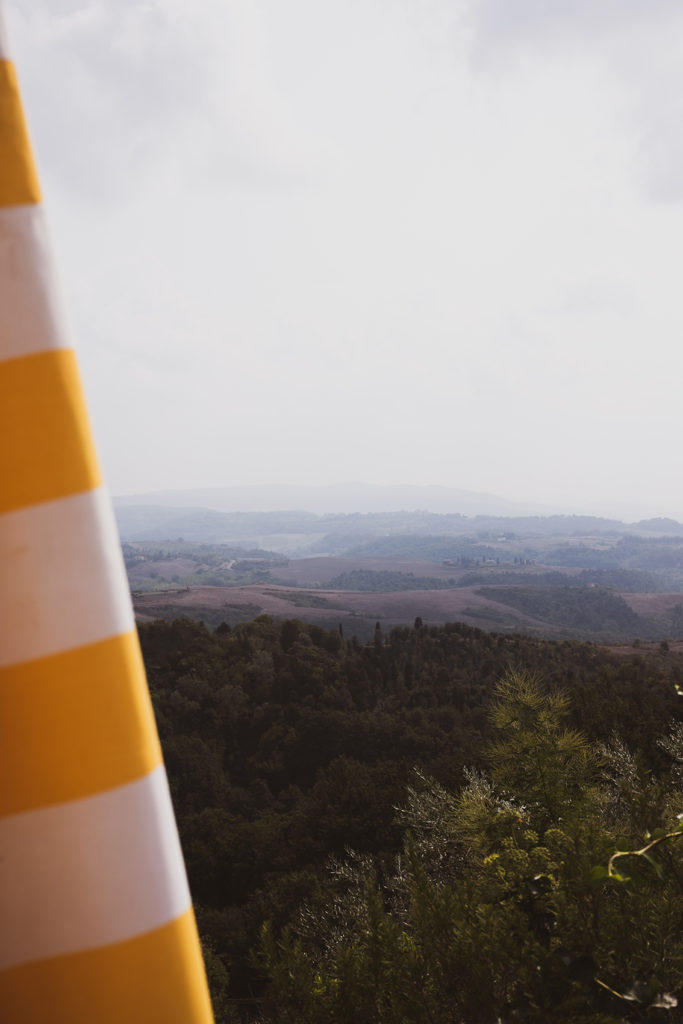 Palm lilies cast their shadows on the rosé coloured walls.
Plants and light shape places. 
Wild fennel, rosemary, sage, olive, lavender and mallow.
And on the ceiling
iris has been blooming for over a century.
Each place bears its history with a certain patience. 
Etruscans, Romans, artists and hotel guests.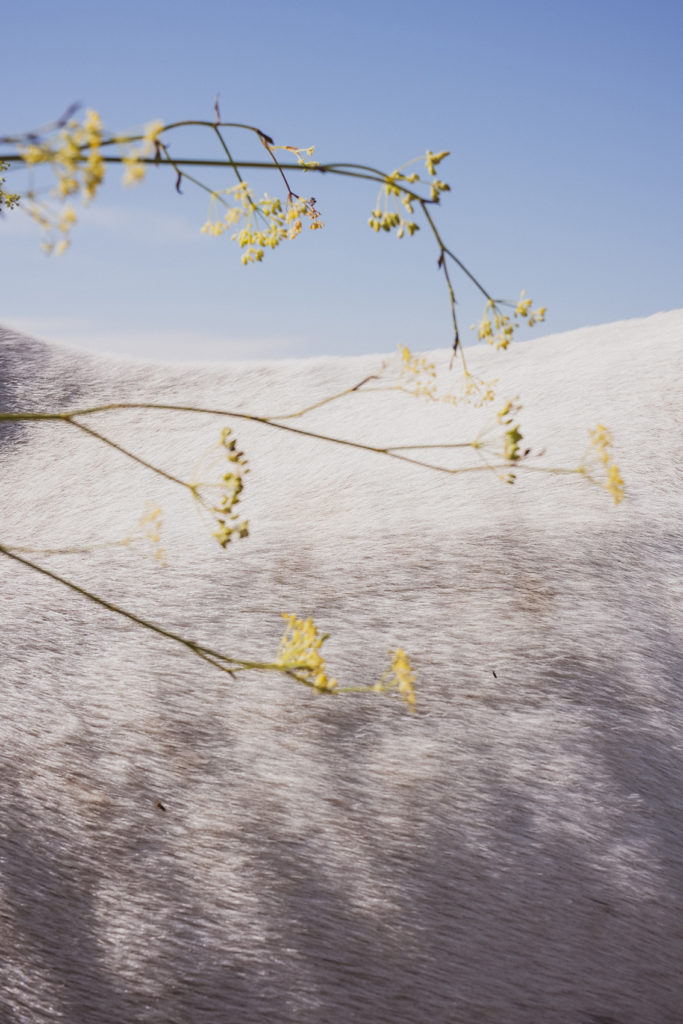 Expressed in cinematic souvenirs
my first days feel like the setting for Guadagnino's
"Call Me by Your Name",
and when the sun is gone it turns into Jarmush's 
"Only Lovers Left Alive".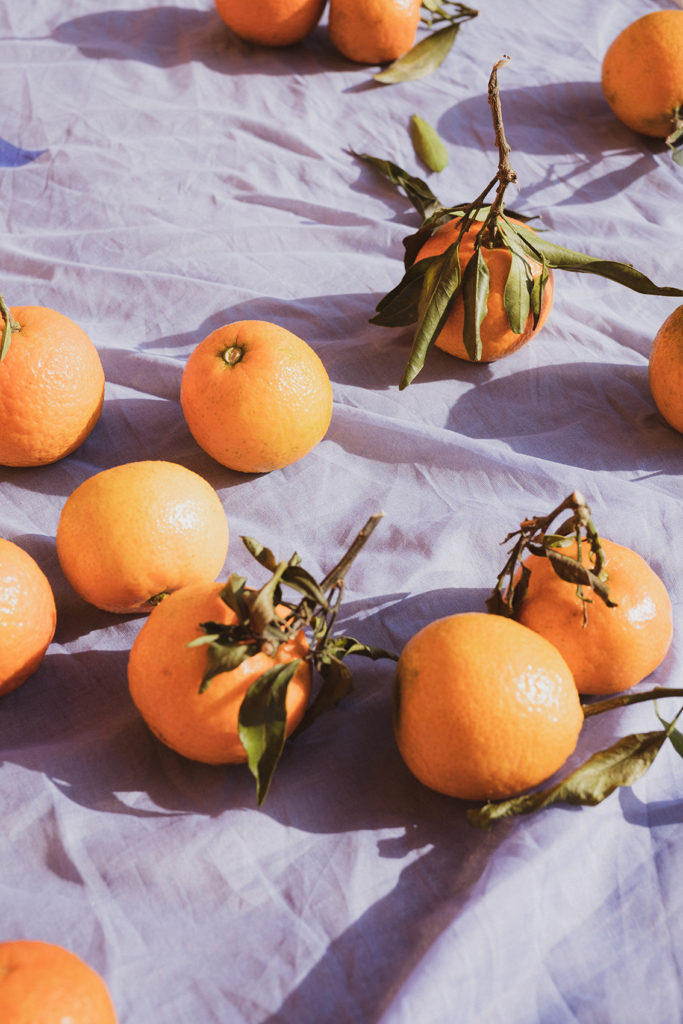 The moon comes out.
We rest our heads on unfamiliar pillows.
Ghosts and insects are rambling around
through the attic, climbing the roof.
Stink bugs are crawling up the renaissance painted walls.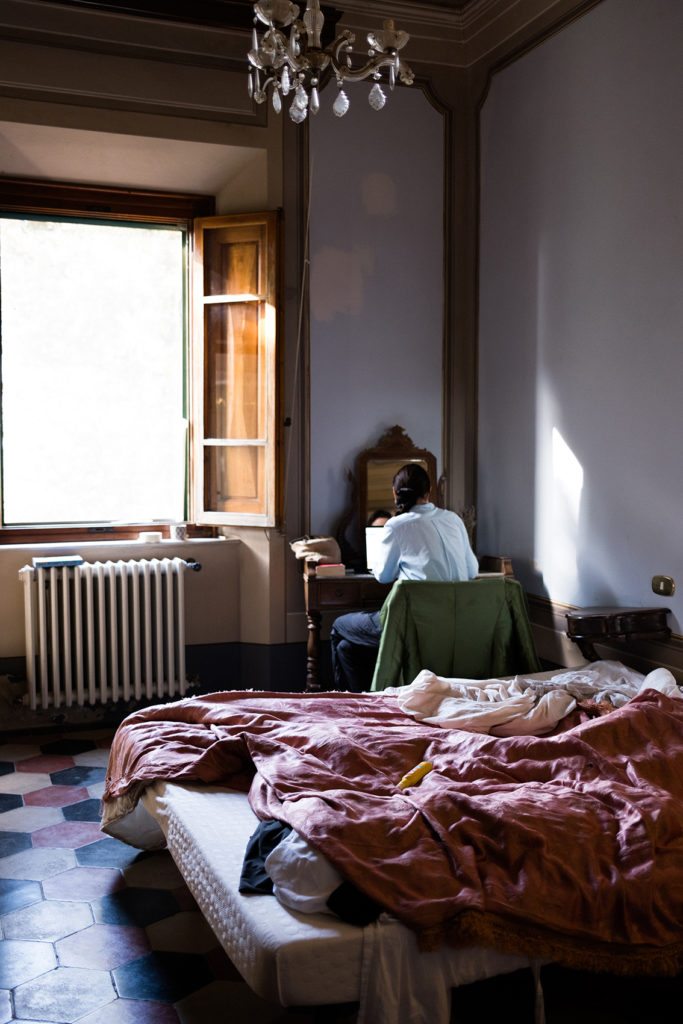 That enigmatic, beautiful house
full of nooks, light and wonders.
Sitting in this garden near Florence
makes me think of Boccaccio's "Il Decamerone".
Everyone brought a suitcase with pastel coloured linen fabrics.
We surrender the place to explore the olive grove, 
the vineyard, the restaurant.
We are tickled by the heat.
and the perception blurs.
White sun, red ground, blue sky.
Striped parasols.
The pool is a huge mirror placed in the garden to please the sun.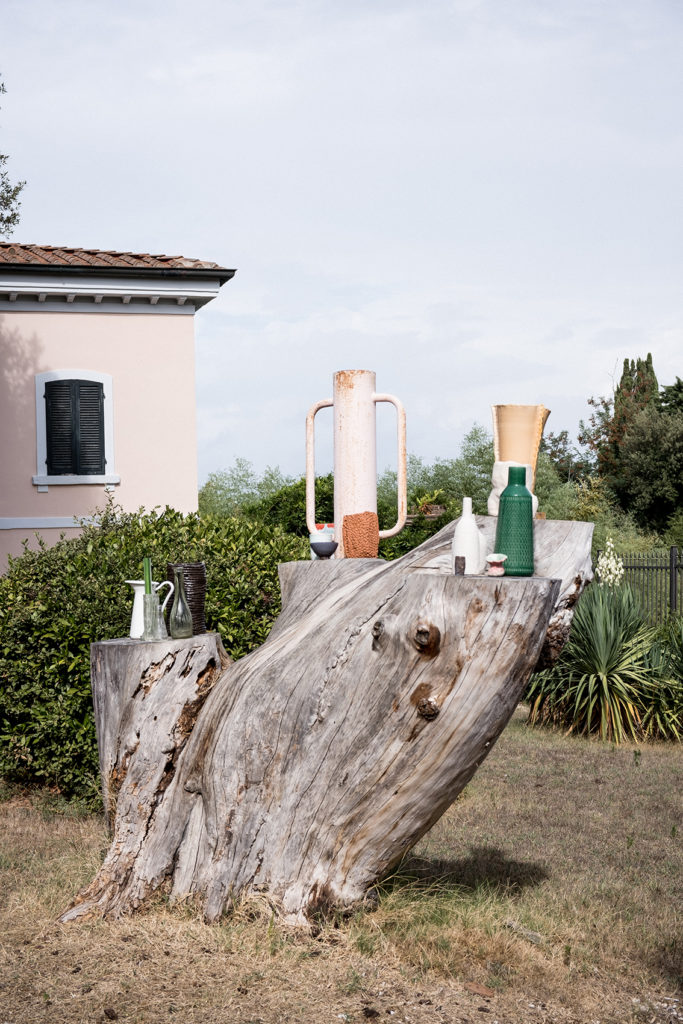 It is a shimmering late summer evening atmosphere
and there are chefs, maids, a gardener
a dog called Igor 
tiles and other details
to fall in love with.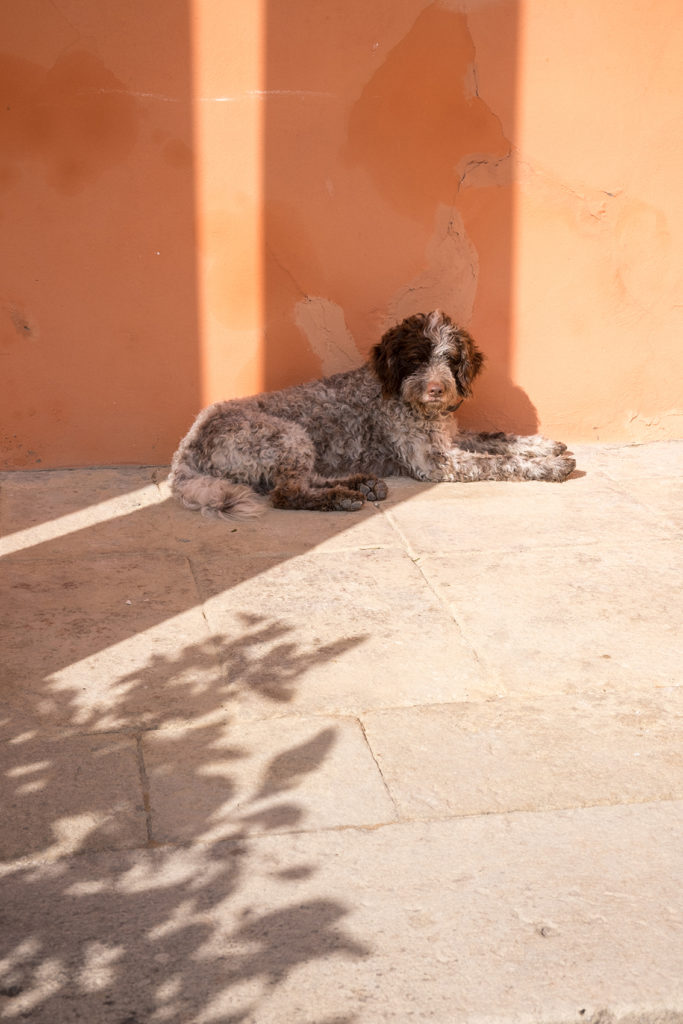 Morning sun lightens up my interior.
Shots are heard.
Old men are hunting wild boars and porcini.
This place up in the hills was formerly called San Michèle.
At the aperitivo I tell every hotel guest the story of the restless soul of Elvira.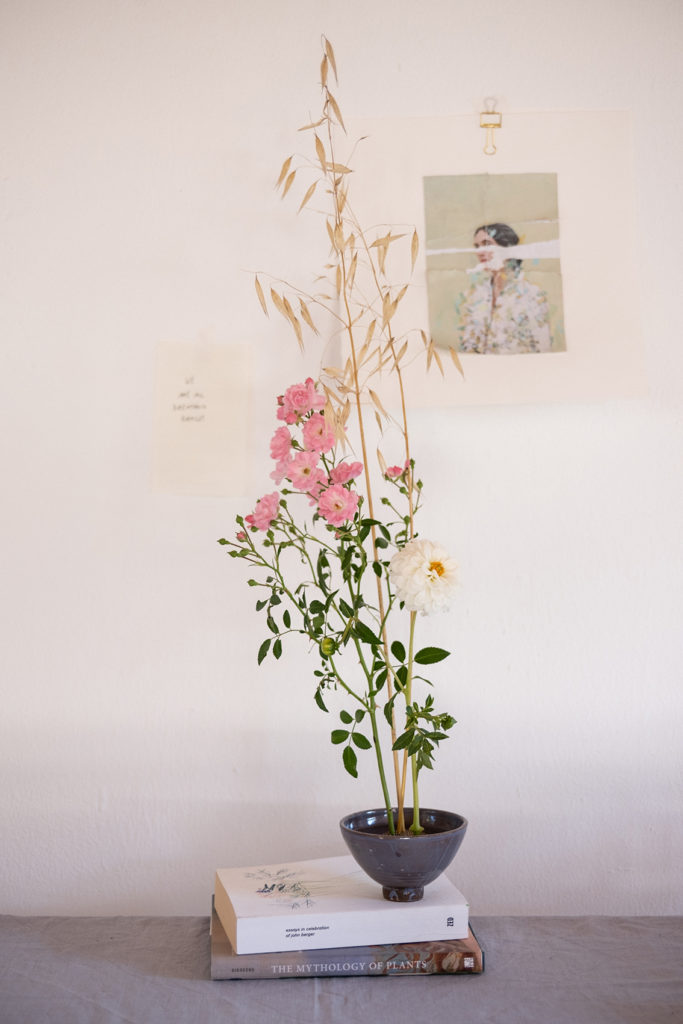 Forgot the name of the days.
Discovered Etruscan ruins.
Spent time 
flirting with flowers.
Made some earrings out of blossoms.
Seems this place brings up a book full of memories.
Foxes and porcupines
strolling through the bushes.
Imagined to stay here forever
like a happily forgotten ghost.
A thunder brings me back to reality.
At my studio.
Just found out that my favorite pink vase
is a device for driving piles.
Streets have potholes.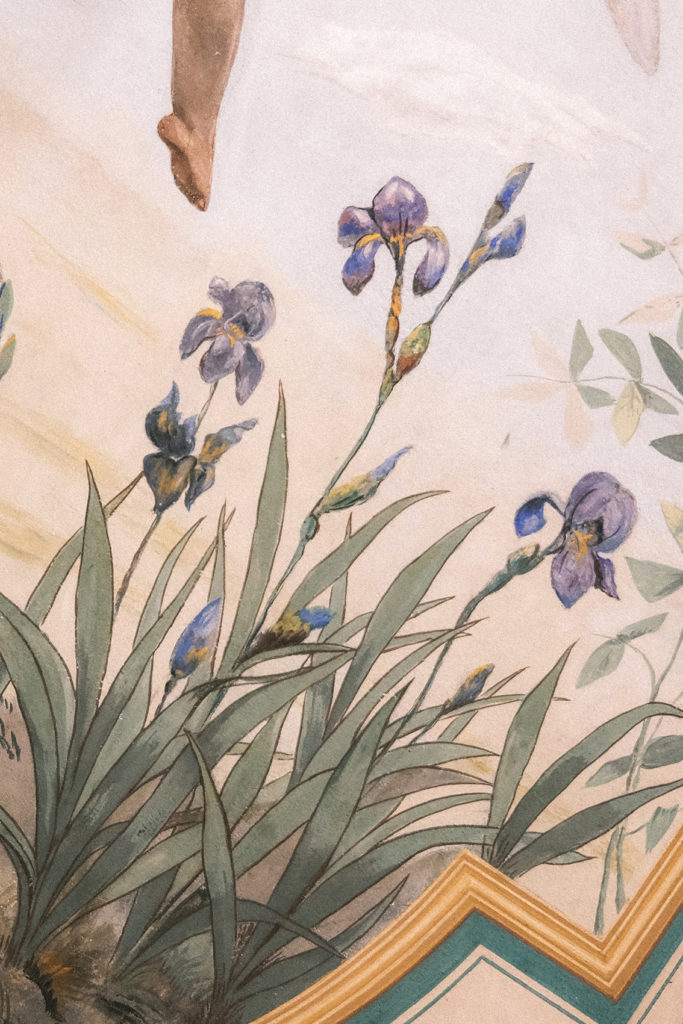 Took a less traveled road to Florence
Magic Medici
Marble, glass and iris everywhere
visited Locchi, because I urgently need a vase
to water all these impressions.
There is that woman 
that resembles the Botticelli painting
next to my door.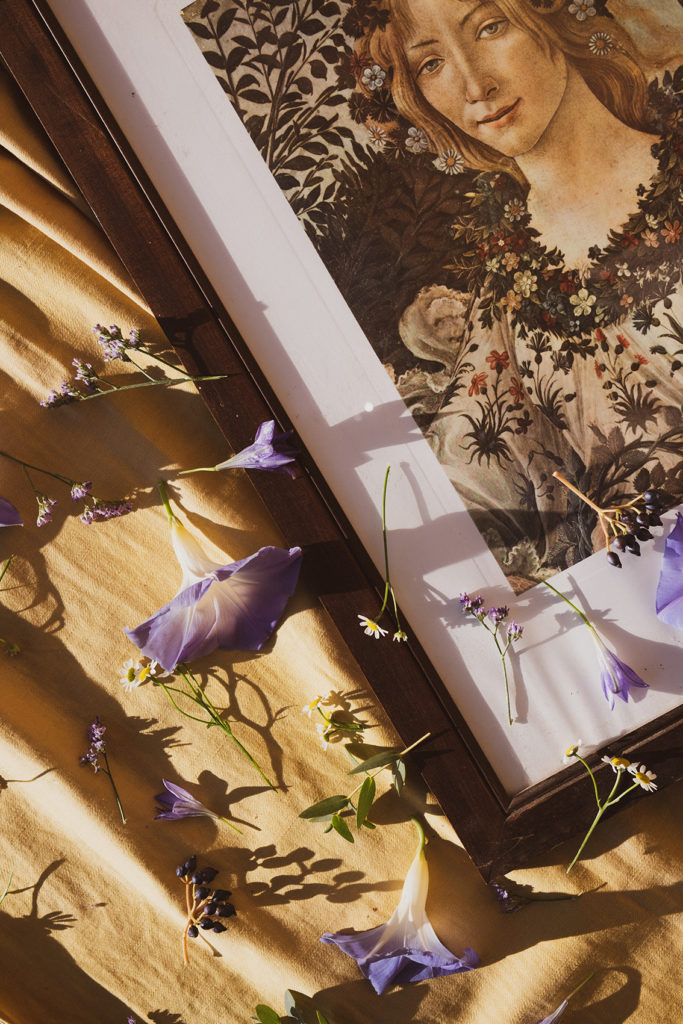 Cut some dahlias.
The wind drags "La Bambola" through the open window
With that view I just need to put them into  a vase
to have an altar.
Immersing yourself in a landscape 
with people you might never have met
To engage with where you are
and let things go.
Che sarà sarà.
A song from this area
about people who left their homes,
cats and cemeteries.
to work in the valley
The aimless and haphazard passing of time
is a privilege.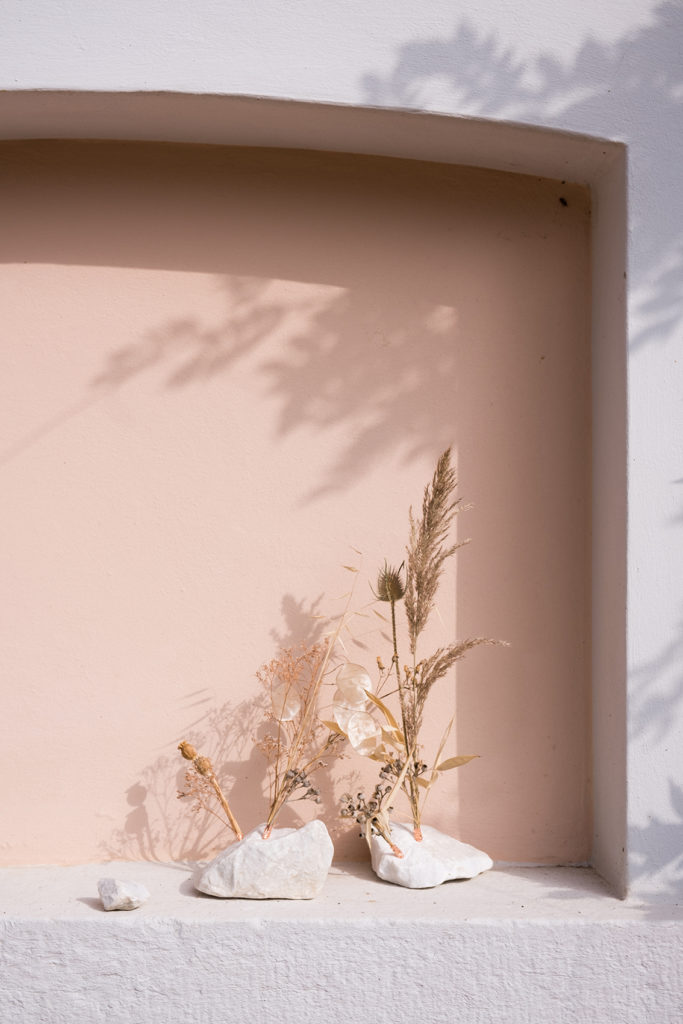 Made a flag like the ones from the Siena Palio
indicating the territory of our wild – Il Barone Rampante– state
Everywhere blue flower romanticism
in this rural chalk stone countryside
in which we all wander around in our Birkenstocks.
Chicory blossoms line the paths,
they used to make coffee out of this flower
during the wars.
The politics of petals.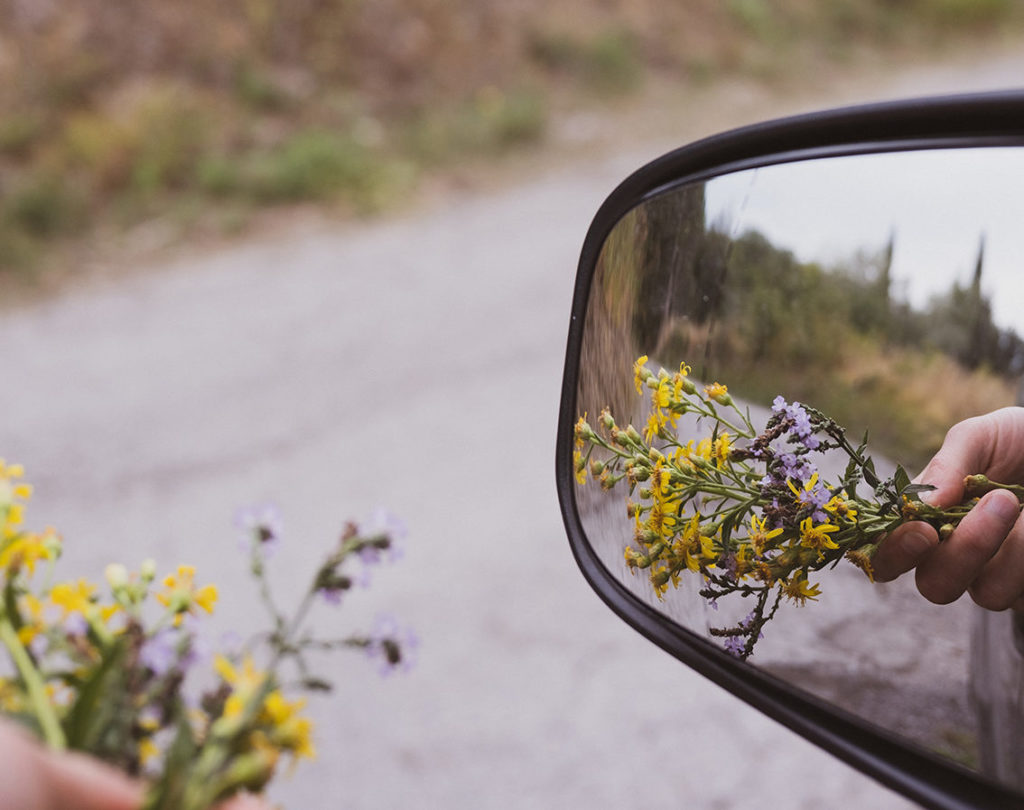 My stay is extended for two more weeks. 
Days become shorter and colder
We start using extra blankets.
Talked about the botany of our desire
Bought a crate of mandarins.
The Villa is so high upon the hill
so the sun disappears very slowly. 
The blue hour is the right time to water the flowers.
Only tomatoes do not like cold feet.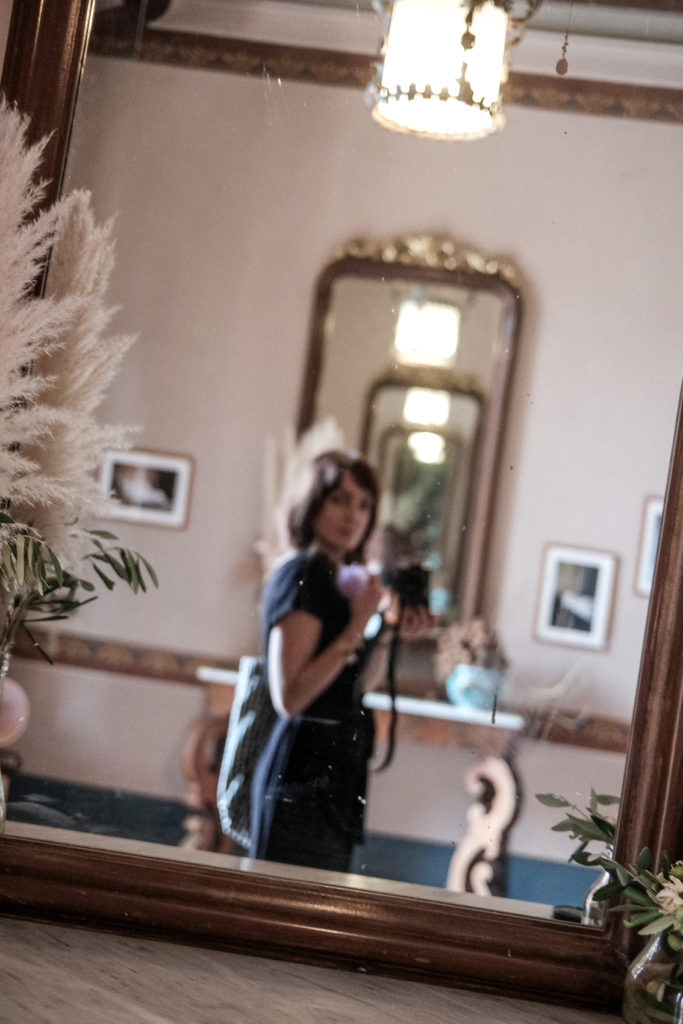 Around us the dark forest
alluding to Dante:
"Nel mezzo del cammin di nostra vita/ Mi ritrovai per una selva oscura"
"In the midst of the journey of our life/ I found myself in a dark wood"
Tender Tuscany.
Dancing a night long to 
"Nothing But Flowers" 
"Nient´ altro che fiori".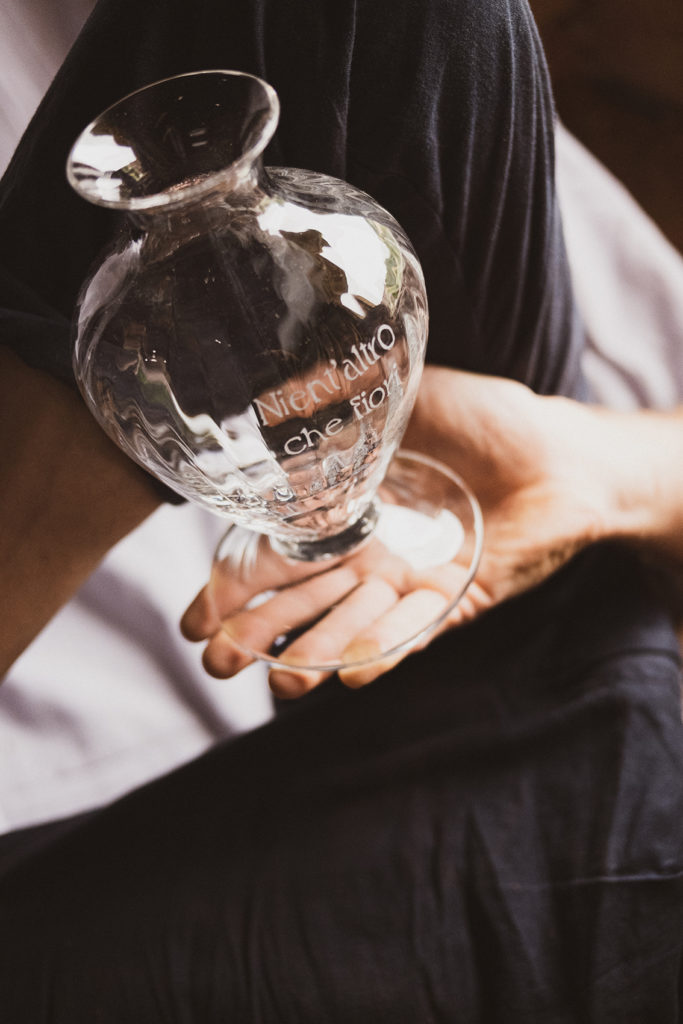 This old Talking Heads song.
We are all timeless memories.
We are all breathing miracles.
–
Evalie Wagner is an Austrian based artist and designer who is passionate about aesthetics, cultural history and botany – she calls herself an Avantgardener. She graduated in Visual arts & cultural studies at the Art University of Linz. Currently she divides her time between her home, a  farm in Upper Austria and art projects that lead her through all over Europe. 
Evalie will host our Creative Botanical Autumn Retreat from October 13th to 17th along with contributors Merle Bergers of Lingua Planta and Abbie Adams. Participants will receive a goodie bag created in partnership with Blumenhaus Magazine. 
Book your spot here!
All photos by Evalie Wagner