Curator Laura Copelin and filmmaker David Fenster presented their individual and collaborative land based art practices followed by a cocktail hour featuring West Texas and Tuscan flavours.
We looked at some of David's film work, and also learnt about Laura's current and recent projects at Ballroom gallery in Marfa, Texas. Laura and David are working on a collaborative film project, in which they focus on members of their community and elements of their lives in Marfa, Texas. We were also fortunate to get to see some of this on Friday.
Located in the heart of the Trans-Pecos desert of West Texas, roughly 200 miles southeast of El Paso, getting to Marfa is not easy. You have to fly to El Paso and from there it's roughly a three-hour drive. But if you do happen to make it, David and Laura have convinced us that the city is definitely worth the effort, for culture, art, geology and the small community of intriguing people that dwell there.
Following the screening and discussion, we moved to San Michele bar, where Laura and David served us a delicious twist of Texan and Tuscan flavours. A platter of Pecorino cheese with fresh herbs and edible flowers from our garden was served with a mesquite-honey reduction made from local honey mixed with mesquite powder that Laura brought from Marfa.
Mesquite powder is made from the seedpods of the mesquite tree. It tastes like an aromatic blend of cinnamon, chocolate, and coffee. For thousands of years, mesquite flour was a staple food of Native Americans from Texas to California, because mesquite trees thrive in arid climates where other crops wither. Mesquite pods were one of the most significant foods of the desert Apache, Pima, Cahuilla, Maricopa, Yuma, Mohave, and Hopi tribes. Like many other desert plants, the mesquite tree super concentrates nutrients in its seeds to compensate for the harsh environment.
To drink, two delicious cocktails were on offer.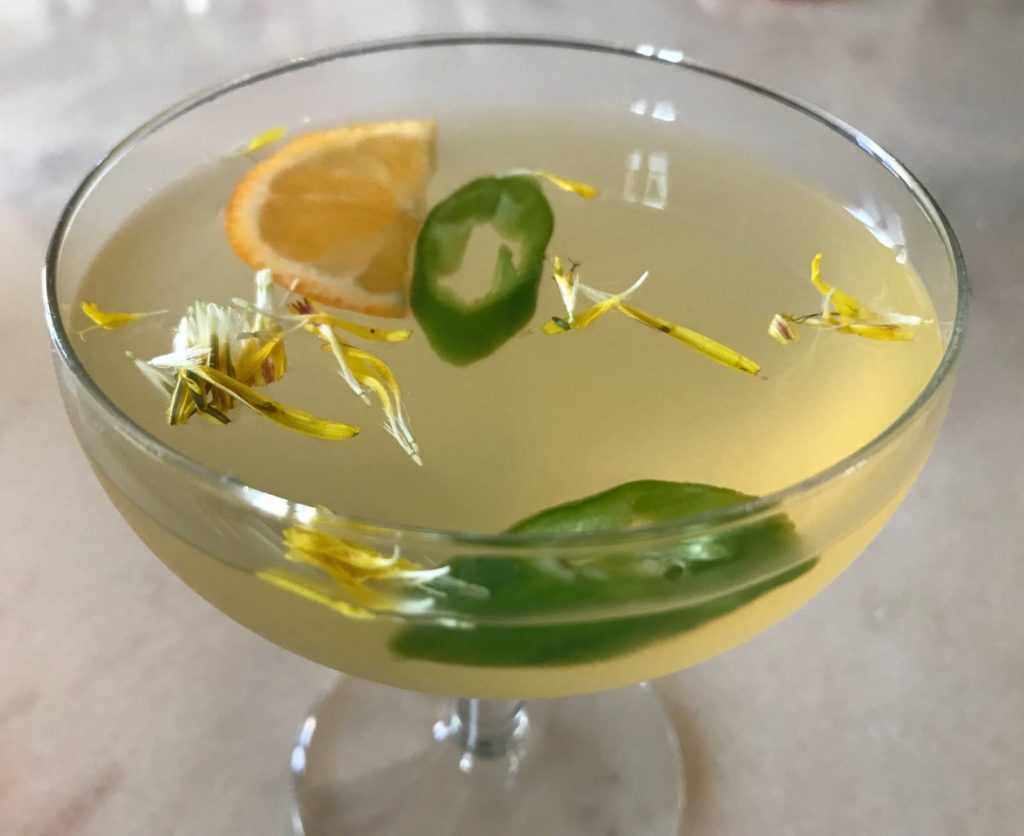 Tequila-Damiana dream elixir
1 part damiana infusion with acacia honey and orange
1 part white vermouth
1 part tequila blanco
Shake infusion and liquor with ice and serve.
Dressed with tangerine wedge, dandelion petals and garden peppers.
Damiana is a small shrub with aromatic leaves found on dry, sunny, rocky hillsides in south Texas. The leaves have been used as an aphrodisiac and to boost sexual potency by the native peoples of Mexico, including the Mayan Indians and is used for both male and female sexual stimulation, increased energy, asthma, depression, impotence and menstrual problems.
Leaving the wonderful benefits aside, this was a deliciously smooth cocktail, the perfect cocktail for unwinding at the end of the week.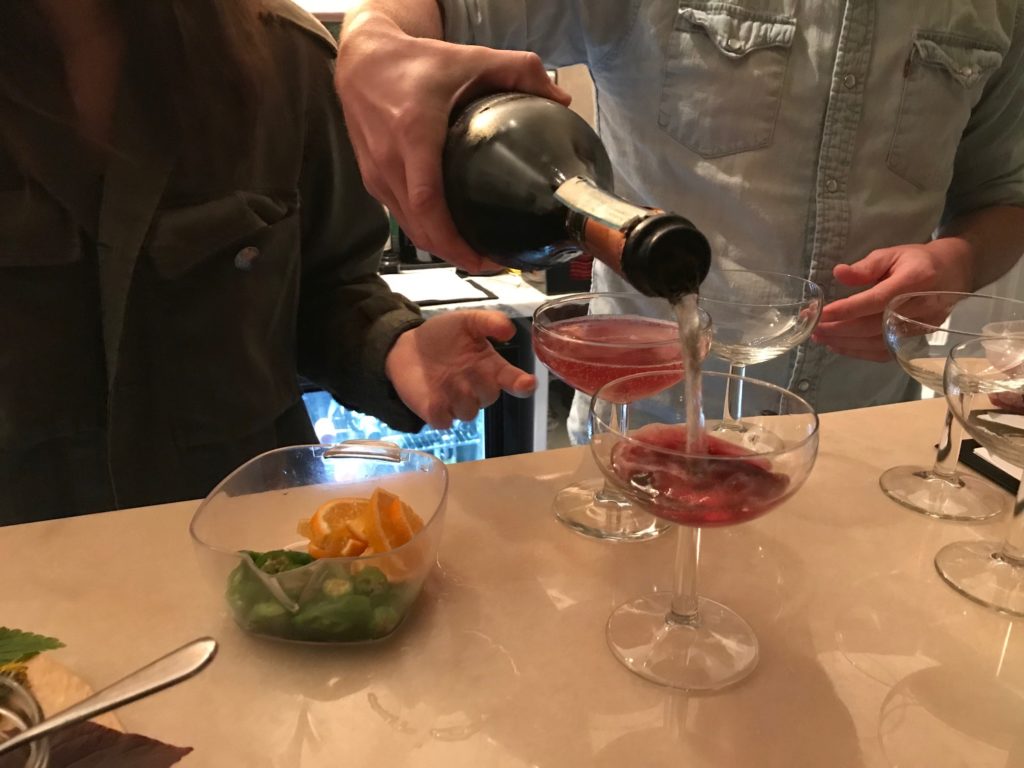 Hibiscus prosecco
Simple syrup of jamaica powder (dried hibiscus), honey, tangerine rind, water
Pour into the bottom of a flute
Top with prosecco
Finish with pomegranate seeds.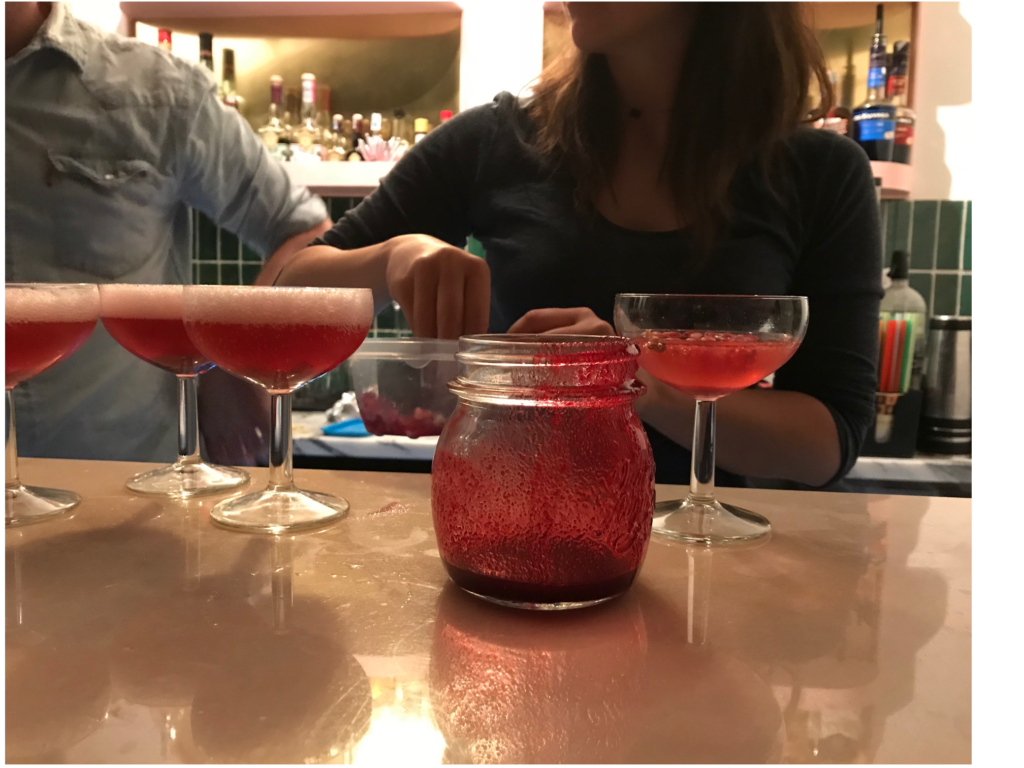 Hibiscus, which has a tart cranberry-like flavour, served with fresh pomegranate seeds from our garden which worked wonderfully with our prosecco for a fruity aperitif.
Thank you Laura and David, for a wonderful evening!