by Fabio Ranzolin
Translation by Margherita Moro
Revision by Miriam Zaggia
For the pictures, I would like to thank Anna Skladmann, the best studio colleague ever.
There was this wooden table, tiny and a little too quirky to exist in that space; one of those tables made with randomly nailed strips. The surface was of an ashy flesh tone, almost shocking – I had never seen wood with a similar nuance – the object was collocated outside, in the large garden of the Villa.
Four clumsy stools accompanied the table: little variable parallelepiped made with the same poor material. There were other four or five identical models of the same table.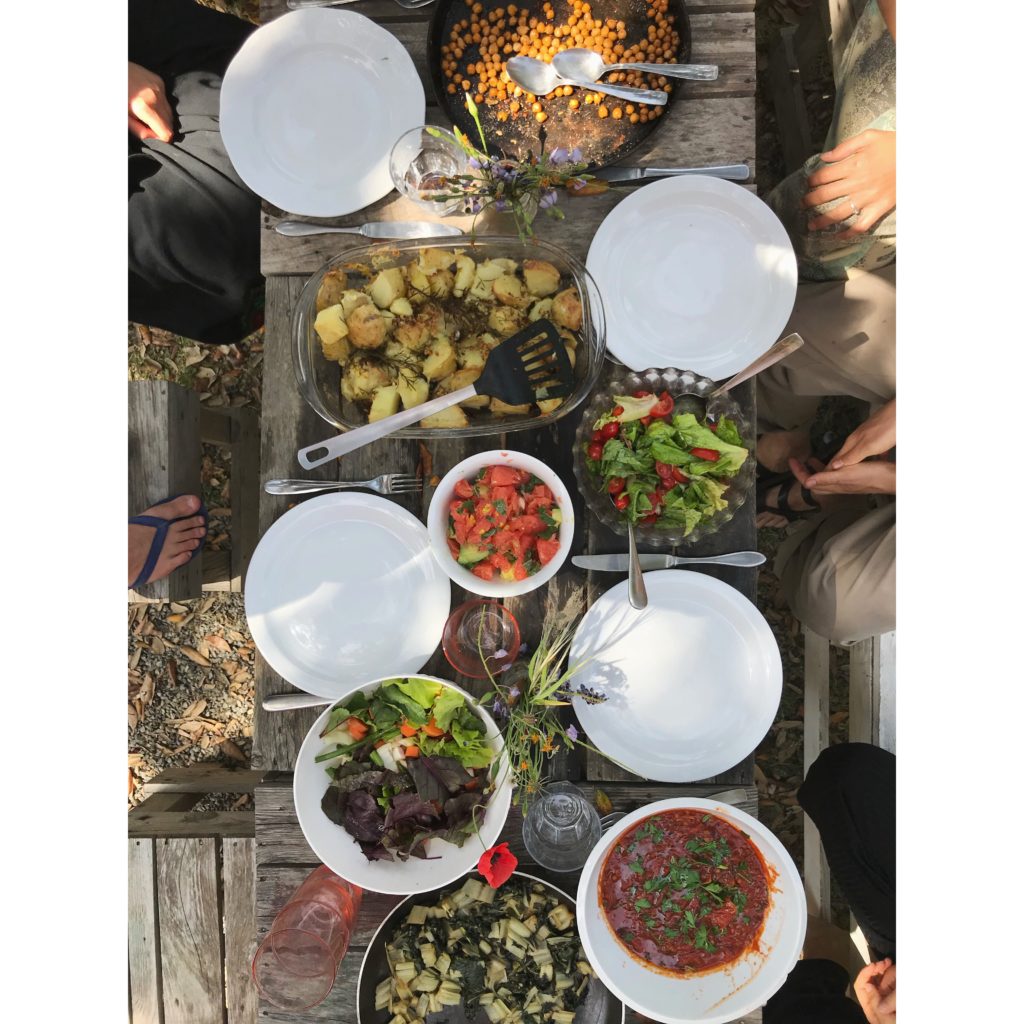 At the beginning of the third week, late in the morning, someone would line them up, in the middle of the field, in the back side of the facility. There were no shifts, neither were established any role, anyone could have done something with the same spontaneity the human kind shows as a line of random people is formed at the train station. The Australian girl went into the woods to pick wildflowers, beautiful weeds and berries that then she would organize in some little and different small containers, absolutely essential as the floral patterned of her clothes were. Each one of us cooked something that we would share with all the others. The pantry was nothing special since the first grocery store was a small shop six kilometres away.
The kitchen was renovated with an old sink and an old hob. On the wall, there was a lovely Tiffany-colored credenza full of dishes, glasses and old cans in which nothing matched with incredible harmony. My favourite cup, that became a glass when necessary, had anthropomorphic shapes: an exquisite olive toned bust of a woman with red nipples. Everything was perfect in its own chaos: from the still life composed by vegetables, left-overs, stale Tuscan bread and aromatic herbs on the table; to the dirty dishes of the night before, with some used and abandoned tea bags. What was really out of place was the few decades old fridges.
A white cabinet full of food and left-overs of maybe twenty people. Had an ugly breath, the fridge. Around lunchtime something was cooked and seasoned and left in terrines or in a pot; then we took our own knife, fork and plate – still empty – while checking if the glass was clean and went outside. A wooden tongue divided the garden in half, there were no tablecloths or matching napkins. The clear and bright sunlight warmed the feeling of conviviality under the shade of the leaves of a secular tree. Little by little everyone arrived, returning from the studio or at the end of a long afternoon spent with beach readings.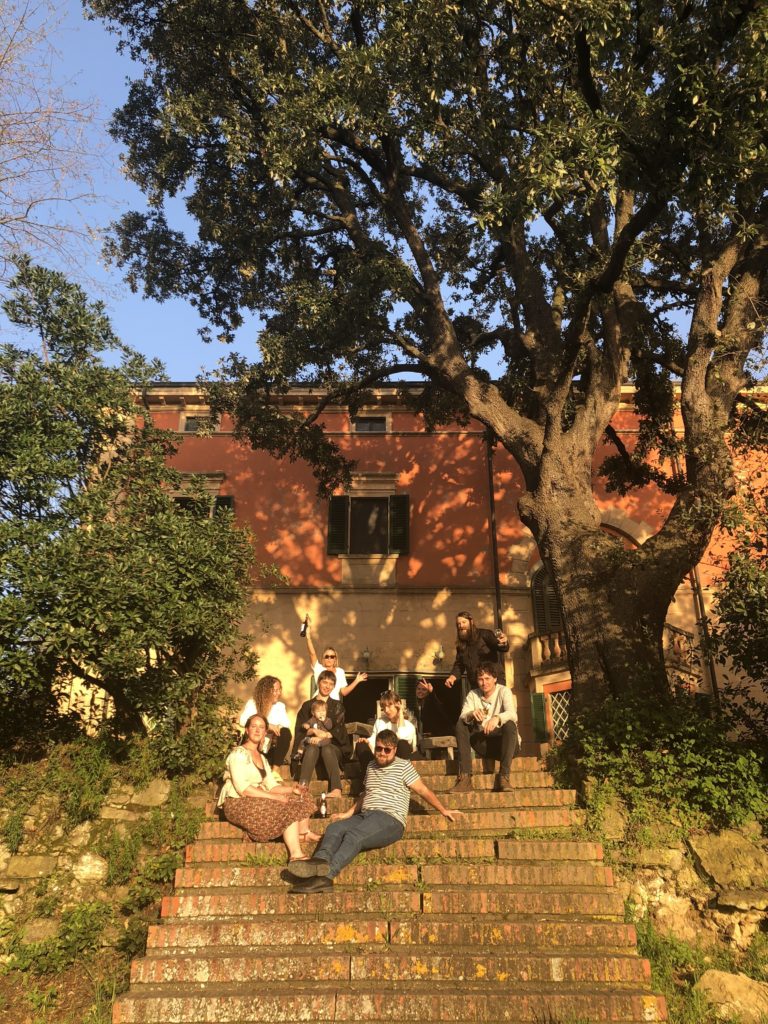 The beautiful French girl arrived late, dirty with clay, while her partner, same as me, was in need for some bottles of wine. If the boy from New York knew that cooking was not his gift, he offered his vital energy; while the sweet girl who lives in Amsterdam, who was of French nationality but also could speak Italian, prepared salads with seeds, herbs and flavours typically from northern Europe. When everyone arrived we started to live together and it was impossible not to feel in the middle of an Ozpetek film: a lunch among actors, artists, creatives and writers; someone was famous, for real! Celebrities at the table who complimented your cabbage in the pan. While eating, passing things, being silent and so on, an impulsive sense of everyday life, a feeling of precious warmth was established and we all knew it would be painful to leave behind The Villa Lena residence lasts thirty days, it is a successful experiment that combines talented and creative personalities together. Every month there will be those who write, photograph, act, compose, draw, cook and come from any corner of the world, of all ages.
Artists coexisting who live, for a specific time, in the province of Pisa, in the middle of the majestic hills of Tuscany, protected by five hundred hectares of land and woods. We stayed in a nineteenth Century villa where every door makes noise, the pieces of furniture are thick and made with dark wood, there is no modern heating, ceilings and walls are frescoed.
I stayed in the most unlucky room: a double bed, a chest and two bedside tables with a marble top, an old wardrobe whose door did not close properly, a broken-down armchair with a seat made of Tiziano red velvet, a chandelier and stars on the ceiling. There was nothing more perfect until I played Gino Paoli at full volume. It was the first day and while I was looking at the sky in my room, crying.
It is so rare and intense when all that surrounds you is a concordance of factors, when what you feel constitutes an algorithm of sensations, thoughts and sensory inputs that make you feel so lucky that they almost upset you, with kindness. I brought, in order to not feel alone, the entire collection of poems by Emily Dickinson. It seemed to me the most suitable choice, if I had not found a nice atmosphere, in fact, I would have been able to soothe myself, but not a word of the volume was ever read during the period of residence.
But let's move on to serious things: next, to the Villa, there are two recent buildings, one is mainly used as an accommodation where anyone, or better any wealthy individual, can come and stay; on the ground floor there is also a game room with billiards and a ping-pong table, a small room with a bar counter, leather sofas and a room with some ottomans that functioned as a movie theatre. On Thursday evening this room becomes a sort of club, believe me absolutely dignified, whose DJ set is often done by visiting professionals, or if you are lucky enough, Sabina Sciubba arrives wearing gold shoes! The other building is a farmhouse with a "zero-mile" restaurant, exquisitely furnished, with works of art placed all over it, left by artists who came before you. In the dining room, there is also a bar overlooking the terrace where the bartender is a dangerously attractive Tuscan boy.
I forgot there is also the pool with a view over the hills and the olive grove, in this elevated area there is another outdoor bar, equipped to serve Spritz Cynar, in which the same guy works, who may have just finished taking a swim during the break. Damn!
Villa Lena is not just an elite holiday farm, it is also an artistic residence, so not far from the villa there are a series of concrete boxes: old stables for horses, empty, with white walls and wifi. The connection is good.
Summing up you live with artists from all over the world in a nineteenth-century Italian villa, a studio at your disposal, an elegant modern restaurant, a swimming pool, a yoga teacher, a masseuse on request, woods for taking a walk like John Keats, Tuscan food, beautiful scenery and climate; besides you'll have disco, readings, performances on Thursdays and Wednesdays – for artists only- and the "aperitivo" (just perfection!) in the noble dining room with fireplace and wine. Villa Lena produces olive oil, red and rosé wine.
Nothing is missing, not even the nostalgia of a place in which you would have always wanted to live.
During the residency you are asked to do studio visits, produce a project and prepare a weekend workshop. The atmosphere of this idyll strongly reminds atmospheres from Call me by your name (2017) by Luca Guadagnino, released a few months before I stayed in Villa Lena.
The movie is set in Crema, but here you are one hour from San Gimignano, Lucca, Florence, Pisa and Siena.
The landscape in April is the same as in Franco Fontana's photographs and the Tuscans are of genuine humanity perfectly reflecting the bewildering beauty all around them.
I realize only now how this experience was unrepeatable, and only after some months, I can coherently reflect upon my emotional experience.
There are nights when I still dream of being there, with all the others, and when I wake up I get into physical discomfort, a sort of backward traumatic experience. As I'm writing, in the middle of the night, the talented Tel Aviv actress that I know from the residence has shared a story on Instagram.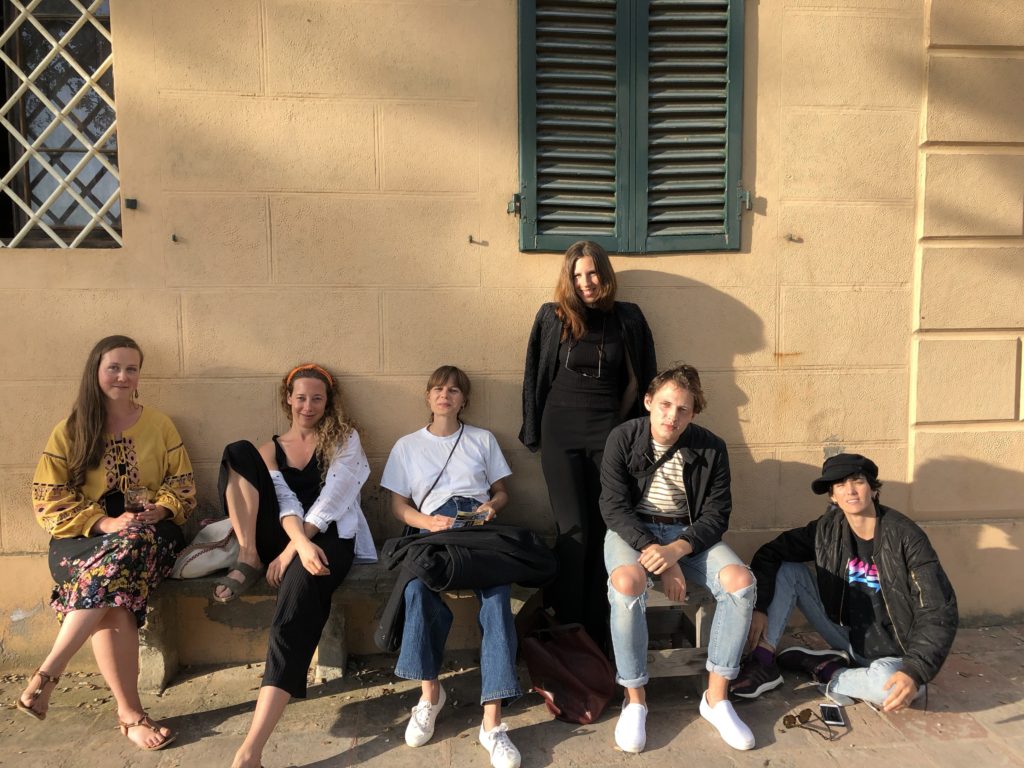 My dearest friend, with whom I shared one-day adventures and the most intimate chats, in some ways complicit as a mother and mentoring as a Maestra.
Thanks to Villa Lena I discovered that you can have new families, deep and solid human relationships, that you can communicate with only through your slender English vocabulary. Perhaps this is one of those important experiences you'll have in a lifetime.
The Foundation was born in 2013 and since about that year every summer, month after month, a group of individuals arrives and stays.
In five years of activity and guests, I was the only artist of Italian nationality. I was really flattered by this incredible circumstance. Throughout the residence, I could not help but think about the privilege I had: as the first artist of Italian nationality, as an Italian in Italy who could experience his best heritage, being in a historical moment when an "artist" could live, sleep and breathe in that cultural asset.
I felt privileged to be able to speak in Italian with all those who work for the Foundation, lucky to be one of the youngest in a group of exceptional people. At that time I was reading the first volume written by Yuval N. Harari, a precious gift from a precious friend. I am sure that even reading this essay has compromised my sensitivity in a definitive way or perhaps, even if I am an atheist, my morality is unfortunately conditioned by Catholicism. It is, therefore, my training that leads me to give meaning and value to the sense of guilt that accompanies the privilege.
In my work, misunderstanding and circumstances become determining factors that guide me in my creative elaboration.
Fate is important, or rather I have decided to give an interpretative sense to the vicissitudes that happen to me.
It was the second week, late in the morning, and I hurried to my room. I saw from the corridor that the door of my room was wide open – I took no notice because I rarely remembered closing it – but there it was an unknown figure inside.
She was a girl, pretty much my age, black-haired with uncombed hair. Her face was sweet and ovally shaped like a Leonardo's portrait, she had dark circles under her eyes and was visibly tired. She is Marta and she is part of the cleaning staff, both in the Villa and in the Hotel.
She apologized, justifying herself kindly but fiercely, then we introduced ourselves and I helped her make the bed.
She has a degree in modern literature from the Normale University in Pisa and works for the Foundation in the summer, I deeply envied her for this. Somehow Marta is the guardian of a fortune that she seizes and recognizes. We talked about the book I had on the bedside table and then she moved on to the front room assigned to the Australians.
Another privilege I had was being able to move by car, unlike all the others. Trying to reach civilization outside, you have to travel about twenty minutes on a dirt road, filled with countless holes, and then again small and dangerous roads and hairpin bends. The avenue is all surrounded by nature among the hills, ravines and olive groves. On this isolated route, you come across a stone tomb, of Elvira.
In 1947 "la Bella Elvira" was found slaughtered in the woods, when she was a little younger than Marta and she also worked at the Villa for the noble Salt family of Swiss origin.
Her death still remains a mystery, it was blamed her partner, but he was acquitted for lack of evidence; in the village, the inhabitants said that it was Lord Salt who killed her because the young woman became pregnant with him. Between reality and news, during the month of residency, I also met the rest of the staff who today works for the Foundation, in particular, I spoke with Donato, the caretaker, Daniela, the cleaning manager who has a family production of snail slime, Paul, the eccentric gardener, Giuseppe, Alessandro, Anna, Fabrizio and Pietro. People rich in stories and knowledge. I realized more and more that my pleasant stay was the fruit of their work, I could not remain blind to their silent effort.
What we perceive as beautiful, good and culture in our contemporary society it comes from ages where probably we wouldn't live. Ages when just a little niche of people (noble white women and in particular men) could live a free life, in the meanwhile, other people had to work to maintain the freedom, wealth and power of these niches.
The Villa was conceived in the XIX Century by the aristocratic family Dal Frate, at the very beginning of the Italian Risorgimento. The architectural form was thought by minds that were not planning or had any knowledge in taking care of it. It was a servitude work, who was living as well in the Villa and that had a specific place in it: the higher floor, the rough one, without nice frescos and with low ceilings.
Some centuries later I found myself in the noble floor of this Villa, eating in the dining room with a view on the hills and the faces of Dal Frate's family watching me from the ceiling, where their crest is placed.
You are not invisible it's a simple but sophisticated installation. The first thing I noticed about the Villa was that it was not conceived to guest fifteen different people everyone pretending its own room. The Foundation, to solve this new request, without any logic, decided to number all the bedrooms (some of them were not a bedroom, but they become so for the first time in history) as if it was a hotel.
Numbers were written with a marker on tape or old labels. Awful, everything was really clumsy. My intervention was giving a sense, a new order, and name the rooms for future guests. After this act space has found a name: my room has become Stanza Marta, the one of my German friend Stanza Tano, and so on.
My work is not intended for my fellows and colleagues, rather for all the people we often consider to be invisible (and even if in our ordinary life we could be one of them, we tent to not escape this trap). Naming things means giving them sense and form. To really examine something, we have to find the words. Formally talking the project consists of ten brass labels carved by a local artisan. Despite the very simplicity of this act, it has a political and poetical meaning: for the first time people that never had the possibilities to inhabit those beautiful rooms now have at least their sign on it. Every artist that will stay in the residency will see the names of these new people entering them lives.
Maybe this will not bring any new true knowledge, but it's a duty to remember the privileged every time it's possible that real people were and are working for their pleasure and experience and to give recognition and gratitude where is owned.
When I got back home, they told me that Marta was moved by my action. I'm really happy that my work touched her, moreover, this artwork was inspired by her.