'Limitations Can Be Really Useful' : In Conversation with Artist-in-Residence Katy Kirbach
We spoke to the Berlin-based painter Katy Kirbach, Villa Lena's creative contributor for October. Throughout her stay, Kirbach hosted the colour theory workshop 'Interaction of Colour', drawn from Josef Albers' book by the same name.
With a playful neon palette, Kirbach's paintings are instantly eye-catching. Yet this visual immediacy is contrasted by a thoughtful and careful process. Works that at first seem contained and self-referential, a conceptual analysis of form and colour, begin to speak to hand-driven craft, slowness and touch.
Geometric patterns reveal the intricacy of hand-woven canvas supports. Through the cutting and re-weaving of canvas, Kirbach allows the materials of painting — stretcher bars, canvas, linen — to become active components in the finished work. Responding to idiosyncrasies in the woven structure, lurid, reflective colour is patiently applied at each overlapping point. Optical patterns, an unmistakable characteristic of Kirbach's paintings, begin to assemble themselves. Each work becomes a series of encounters, first and foremost between painting and viewer.
Through her deconstructed paintings, Kirbach connects the abstract object with the experience of living and being in the real world.
You completed your Postgraduate Diploma at Royal Academy Schools in 2011. Since then, what have been some of the most formative moments shaping your current practice?
Spending a year as the Abbey Scholar in Painting at the British School at Rome led to significant changes. This was the first residency I took part in and having a year to focus while living in a city like Rome gave me clarity and purpose. I applied for the BSR with an interest in ornamentation across the city, for example the Cosmati floor mosaics at Basilica di Santa Maria in Trastevere.
When I arrived in Rome I was overwhelmed by its visual richness. I had to come to terms with if or how my work could take on such a huge history. I found a way back into my practice through engaging with Rome as a contemporary city. I started collecting cheap upholstery fabrics from Porta Portese market, and kept noticing architectural details that were at once functional and decorative. For example, the way bricks are patterned is not only a practical decision but also an aesthetic one. It correlates with my investigation into the materials of painting and my interest in ornamentation. This eventually led me to towards a process of deconstructing and reconstructing the painting-object.
What have been some of the biggest changes in your practice?
When I was based in London I made large paintings. I relied on cinematic scale, the viewer's experience of having their field of vision completely surrounded. After graduating from Royal Academy Schools, I had a few nomadic years moving between the US, England and Italy and therefore needed strategies for transporting my studio practice. As I began making smaller work, I came to understand the intimacy of small paintings, and how a different type of intensity is experienced between object and viewer.
I find that I am more creative when I work within a system. After my residency in Rome, I began to cut canvas up and weave it back together. The woven structure created a pattern to respond to; six years later I am still surprising myself visually through this weaving-and-painting process. Limitations can be really useful.
View this post on Instagram
So this isn't your first artist residency, what is it about being an Artist-in-Residence that you find so stimulating?
A residency offers freedom from day-to-day responsibilities, allowing a sustained level of focus in the studio. It is a chance to meet other artists, and develop new connections within and across practices. As a painter, it takes time for me to absorb visual influences, so the benefits of each residency unfold afterwards, back in my Berlin studio. For example, whilst exploring Istanbul last October, during my residency at TekTrope, I started looking at the structure of iron gates, particularly the way gaps became framed, highlighting whatever was behind. Six months later I began pulling apart the weave of my own paintings.
Villa Lena has been an amazing experience, particularly because it's the first time I've worked for any duration in a rural setting. I had already begun exploring the role light plays within my paintings, but having the chance to work with the golden afternoon light in Tuscany has been really exciting. I'm not yet sure what to do with the experience, but I will spend a grey Berlin winter responding to it.
You described some of the 'ghosts in your studio' as Bridget Riley, Agnes Martin and Mary Heilmann. Do female artists play a big part in influencing your work?
I find myself looking at and talking about the work of female artists a lot. As a student, I remember searching for artists that I could connect or relate to in some way; I think it's natural to try to place oneself within a history, to search for a way forward. Agnes Martin was an early influence, for the subtle shifts in her drawn lines, and because viewing her work is a type of visual meditation — her paintings force the viewer to move back-and-forth, to experience an elusive moment of focus. Discovering Mary Heilmann's work towards the end of my undergraduate degree felt like being given permission to let loose — her work has a wonderful attitude and sense of playfulness which is very difficult to capture in painting and which she has done consistently for decades. Bridget Riley taught me many of the same lessons that Josef Albers teaches in his book Interaction of Color — to look, and look again, and question what you see and why you see it.
Over the past few years I've also been excited by the works of Ruth Root, Cheryl Donegan, Samantha Bittman, and Sarah Crowner, among many others.
You have taught a lot in the past, having lectured at major institutions such as School of the Art Institute of Chicago. We are so excited that you are this month's Creative Contributor here at Villa Lena, can you tell us about your relationship with teaching?
It has been so much fun leading workshops at Villa Lena! My workshop has been based on Josef Albers' Interaction of Colour, which I used to teach as a semester-long course at the School of the Art Institute of Chicago.
The beauty of the workshop is that it places practice before theory, so it is a hands-on way to experience the relativity of colour. I really enjoy the social aspect of teaching, and the thrill of being present at the moment when a student discovers something important within their own work.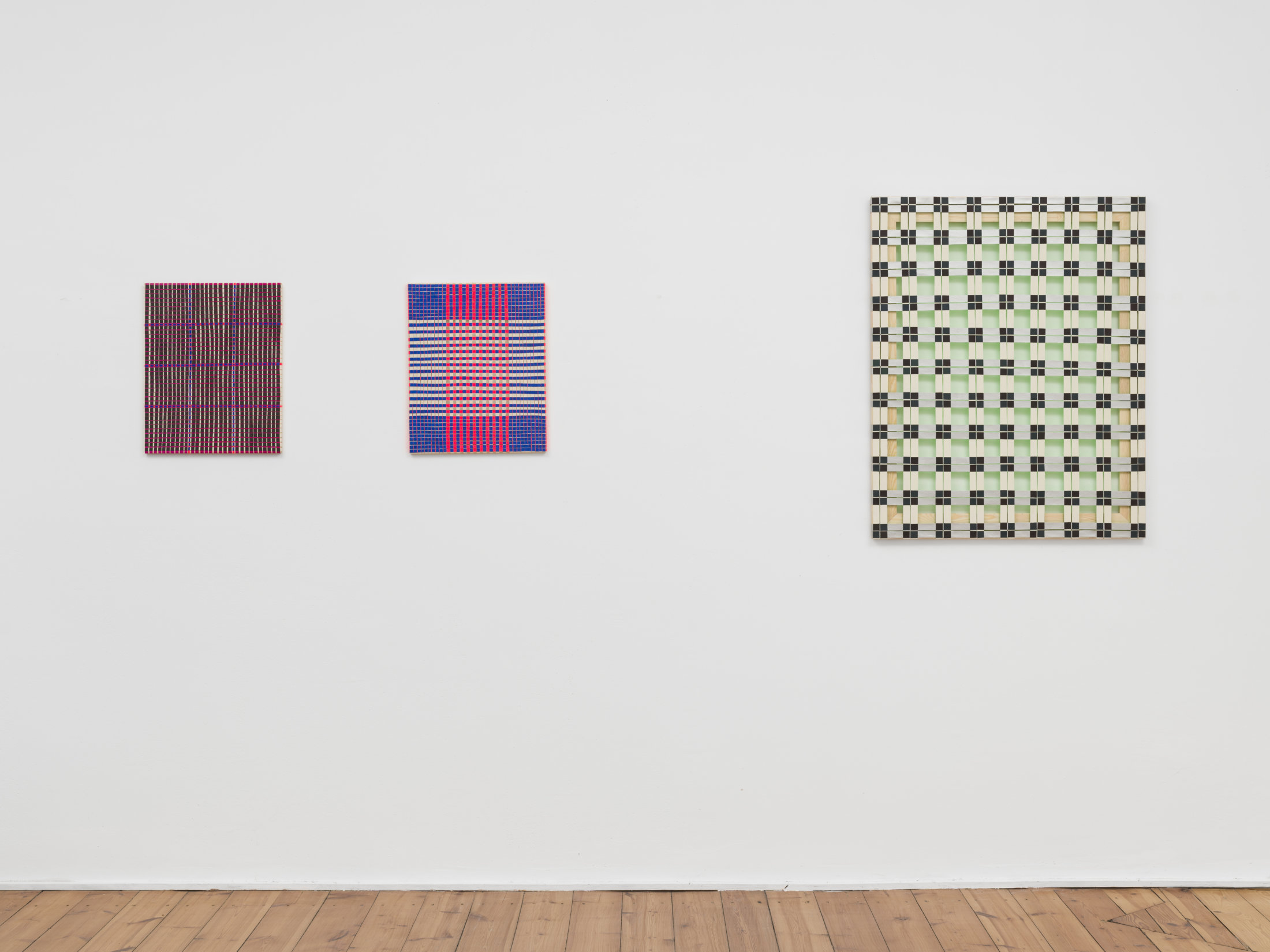 Your focus on textiles has always been consistent, what is it about them that draws you in?
Growing up, I looked at traditional quilts from the region I'm from in Midwest US. More recently, I have been influenced by Gee's Bend, a community of African American women in Alabama who make quilts from scraps of material they have at hand. The quilts have a structural pattern but as the materials shift there is a playfulness and inventiveness that is simply amazing. The women of Gee's Bend, including Arlonzia Pettway, Annie Mae Young and Mary Lee Bendolph are finally being recognized as significant contributors to visual art, with their quilts in museum collections including MoMA.
During my residency at the BSR, I loved going to the Missoni store near the Spanish Steps to look at the fabrics and patterns. The signature chevron pattern in Missoni textiles is echoed in a lot of the brick patterning on the streets and buildings in Rome. I find that I gain as much visual influence from looking at textiles as I do from looking at painting.
Your work has often been compared to 20th-century art and design movements, such as 1960s Op-art and Bauhaus, movements very conscious of their surroundings, how do your paintings interact with the space they are shown in?
As the woven structures in my paintings become looser,  the space between the stretcher and wall become part of my work. This invites a more direct conversation with the exhibition space. While at Villa Lena, I've been thinking a lot about Carla Accardi's paintings, particularly her works made on transparent sicofoil, a type of thick plastic material no longer in production. She exhibited some of these paintings at Castello di Rivoli, placing her colourful, patterned, 1960s abstractions within the context of an ornate Italian palazzo. Over this past month, I have been taking photographs of the geometric tiled floors at Villa Lena, the simple shifts in patterning from room to room. I would love to exhibit my works in similarly ornate spaces, welcoming a clash of color and pattern between my paintings and their architectural surroundings.
Text by Holly Pollard
Kirbach's paintings are presently on show at Salondergegenwart in Hamburg, Germany. The annual exhibition, curated by Margarita and Christian Holle, showcases the work of emerging artists.