Dinner under the Stars | 24 July 2021
24th Luglio 2021 @ 7:00 pm - 10:00 pm
Gratuito
A Tuscan feast for friends!
Join us at Villa Lena to celebrate the best of farm-to-table dining and creative cuisine, with chef Kyle Pierce from the Rome Sustainable Food Project.
Kyle's cooking is influenced by Italian tradition and recipes with an emphasis on putting vegetables at the centre of the plate. This menu has been designed to highlight the best seasonal ingredients offering the freshest produce from Villa Lena's organic vegetable gardens and the best mid-summer flavours.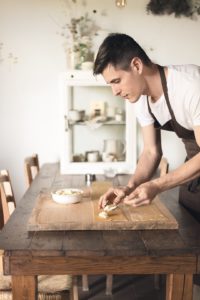 Taste the Tuscan summer and connect with the creative Villa Lena community over Kyle's delicious rustic menu that showcases the vegetables harvested that very day, such as risotto with garden herbs. All of this is to be enjoyed with Villa Lena wines, included in the price, and an incredible live music performance.
Dinner ticket: 60€
Kids dinner ticket: 15€
*10% of proceeds will support the charities we have pledged to fundraise for this year, you can read more about them here
**the menu for this event will be vegetarian, we are not able to cater for any other dietary requirements
***payment in full required to secure your ticket

Please register interest via the link below

—————————–
Una festa toscana tra amici!
Unisciti a noi per celebrare la cucina creativa a km 0 curata dallo chef Kyle Pierce, dal Rome Sustainable Food Project. La cucina di Kyle è influenzata dalle antiche ricette e tradizioni italiane, con un'enfasi sulla scelta delle verdure come elemento centrale del piatto. Il menù è stato progettato per valorizzare i più freschi ingredienti stagionali e degustare i sapori estivi dell'orto biologico di Villa Lena.
Goditi l'estate toscana ed entra a far parte della community creativa di Villa Lena gustando il delizioso menù di chef Kyle che, con piatti come il risotto alle erbe dell'orto, privilegia gli ingredienti del raccolto del giorno. Il tutto è accompagnato dai vini di Villa Lena, inclusi nel prezzo, e dalle straordinarie performance musicali live.
Biglietto cena adulti: 60€
Biglietto cena bambini: 15€
*Il 10% del ricavato verrà devoluto in beneficienza alle associazioni che abbiamo deciso di sostenere quest'anno. Per saperne di più leggi qui.
** Sarà disponibile un'opzione vegetariana, per altre restrizioni alimentari non siamo in grado di garantire il servizio durante questo evento
***Il posto è riservato previo acquisto del biglietto
Per prenotare, segui il link qui sotto
—————————–
MENU
Zuppa fredda di mandorle con ciliegie
Chilled almond soup with cherries
Risotto alle erbe del giardino
Risotto with mixed herbs and vegetables from the Villa Lena gardens
[Vegetarian]
Sformato di ricotta di pecora e fiori di zucca
Baked sheep's milk ricotta with courgette flowers
Tagliata di maiale con insalata di cocomero
Grilled pork steaks with watermelon salad
Gelato biscotto
Ice cream sandwich with salted peanut gelato
[tribe_tickets_rsvp post_id="19364"] [tribe_tickets post_id="19364"]